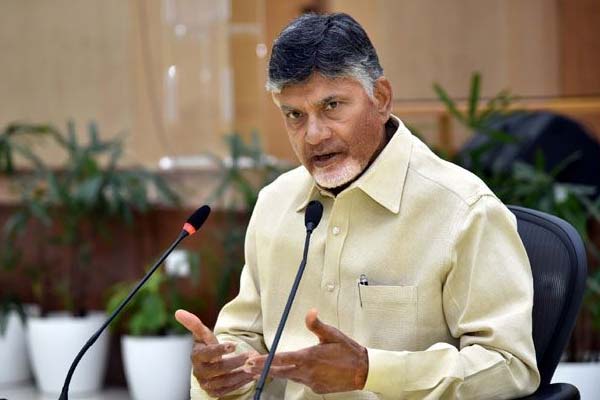 Former chief minister and TDP president, N Chandrababu Naidu, on Saturday regretted that the State is plunging into deep debt burden and the total debts now reached a whopping Rs 10.31 lakh cr.
In a chit chat with media persons at the TDP central office, Chandrababu Naidu asked where is this money going. "I am really unable to understand as to which way the State is moving," Chandrababu said.
Observing that Chief Minister, Jagan Mohan Reddy, on the one hand imposing heavy taxes on the people and on the other borrowing lakhs of crores and this year alone he borrowed Rs 96,000 cr, the former chief minister expressed surprise what is happening to all this money.
Chandrababu felt that this will certainly lead to economic crisis and will push the State into bankruptcy.
Despite borrowing such huge amount of funds, the Chief Minister has neither completed the Polavaram project nor constructed even a single road in any part of the State, he remarked.
"He totally destroyed Amaravathi and not even a single irrigation project has been completed," the TDP supremo said, adding that even the salaries of the employees are not being paid properly and there are no subsidies for farmers.
Then what happened to the Rs 10.31 lakh cr funds, he asked and felt that it clearly indicates that the funds are being misused.
"This is the reason as to why I commented that Jagan is born only to totally destroy the State," Chandrababu Naidu said. The TDP supremo is of the opinion that till now Jagan had fooled the people and in turn the people will fool him now.
Maintaining that the per capita income of Telangana has now reached Rs 3.08 lakh taking the State to the top in the country, the former chief minister said that this is all because of the decisions taken earlier which yielded the best results now. Telangana is enjoying the fruits now, he commented.
But the per capita income of AP is Rs 2.19 lakh and one can easily imagine the difference between the two States, he stated. This is all because of the demolition by one person.
The land value in Telangana is going up frequently while there is no one to purchase lands in AP now, the TDP national president said and pointed out that Jagan is the richest Chief Minister in the country.