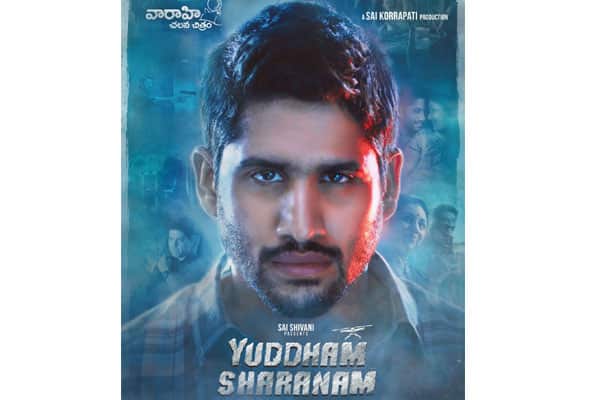 Naga Chaitanya Yuddham Saranam, Yuddham Saranam Audio review
Naga Chaitanya's Yuddham Sharanam has its music score done by young composer Vivek Sagar. The album , which was released last week, has 6 songs. Let's see the album review
Song 1 : Yelugula Teraley
Singer : Shaktisree Gopalan
Lyrics : Vissapragada Kittu
The album starts off with a soothing number which describes the pleasant ambience of nature. Singer Shaktisree Gopalan's off beat yet enchanting vocals and the percussion laden tune rendered by Vivek Sagar strikes the listener instantly. The unalloyed lyrics need a special mention. A beautiful and evocative song in the album.
Song 2: Neevalaney
Singer : Karthik
Lyrics : Shrestha
Next in the loop is a euphoric melody filled with endearing vocals of singer Karthik who gleefully puts his heart into the song. The effortless change in the tempo of the song reflects the young composer's brilliant work. Lyrics penned by Shrestha are neat and compliment the tune well.
Song 3: Adedo Maayalley
Singer : Tracey Thorton
Lyrics : Vissapragada Kittu
Moving to the next one in the album we come across a quirkily sung number. It looks like a lazy melody but draws the attention of listener for its flawless use of saxophone and the husky voice of the singer. The lyrics penned by Kittu are apt for the mood of the song. A slightly off beat number in the album.
Song 4: Padmavyuham
Singer : Nikita Gandhi , Pranav Chaganty
Lyrics : Pranav Chaganty
The fourth song in the album is a situation number which defines the protagonist's strategy to defeat his opponent. Singer Nikita Gandhi's vivacious vocals gets good support from Vivek's electric guitar which is used to a great effect. Pranav Chaganty's provides the much needed adrenaline with his sharp voice and inspiring lyrics.
Song 5: Enno Enno Bhavaley
Singer : Pradeep Kumar
Lyrics : Shrestha
The penultimate song in the album is an emotional and touching song with soulful vocals given by Pradeep Kumar. The love and affection that binds family relations are woven into beautiful and meaningful lyrics by Shrestha. Vivek Sagar's work is adequate.
Song 6: Yuddham Sharanam
Singer : Shivam and Kaala Bhairava
Lyrics : Vissapragada Kittu
The final song in the album is an angered number sung with raw voices by Shivam and Kaala Bhairava. Vivek Sagar renders a fast paced fiesty tune and the superlative lyrics by Kittu define the vindictive nature of a deeply injured individual. A raging number that ends the album on a high.
Verdict : 'Yuddham Sharanam' album is a neat blend of different genres. The album is packed with lovely melodies, an off beat number, a family song and a fiery title song. 'Yelugula Teraley' and 'Neevalaney' will have an instant impact on the listener while 'Adedo Maayalley' acts as a slow poison. Lyricists did a commendable job and Vivek Sagar should be credited for his versatility in tunes.