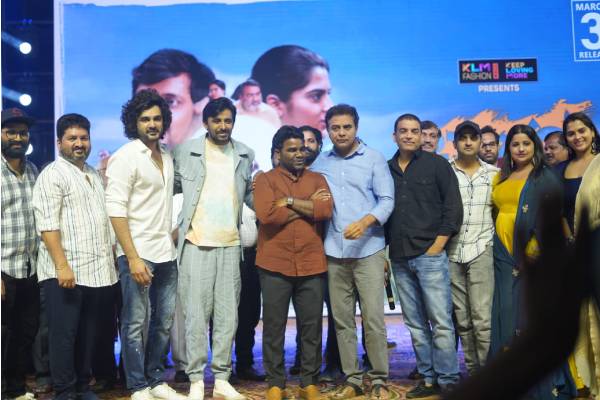 Balagam' Starring Priyadarshi and Kavya Kalyanram play the lead roles in the film. The movie is written and directed by Venu Yeldandi, also known as "Jabardasth Venu." This is his directorial debut. The film is produced by Dil Raju Productions. Recently released songs and trailer wowed the audience. The film is releasing worldwide on March 3rd. Ahead of the film's release makers arranged a grand pre release event at Bathukamma Ghat, Siricilla.
Telangana IT minister Kalvakuntla Taraka RamaRao attended the event as chief guest. Siddhu Jonnalagadda also attended the event. The DJ tillu actor Sidhu Jonnalagadda said 'Our Telangana culture is more than money. It was shown in this movie. This movie made me understand how great Telangana culture is. KTR is taking Telangana to international level. I think our Ramanna is the coolest politician. And I wish the blockbuster success for the whole team.
Speaking on the occasion, Minister KTR expressed his wish that the public would recognise the new talents in this film. He said "Thank you brother Venu for showing the beauty of Sircilla. Any emotion that stirs the depths of the heart is bound to elicit a response from the masses. Human relationships are explored in depth in this film. Small films like this are causing quite an uproar in India. Famous people like C. Narayana Reddy, recipient of the Gnanpeeth Award, and Midde Ramulu were born on the Siricilla soil."
Telangana is currently experiencing a cultural renaissance, with many upcoming artists from Telangana shining on the big screen. These people would not have had these opportunities if there had been no separate state. Telangana government has a lot to do with cinema. All of them will be implemented in the future. I believe that this film will highlight the culture of Telangana villages as well as the incredible talent of Telangana artists. On the 3rd of this month, all of the theatres should be full,' he said. He also blessed the entire team and wished them luck on March 3rd.