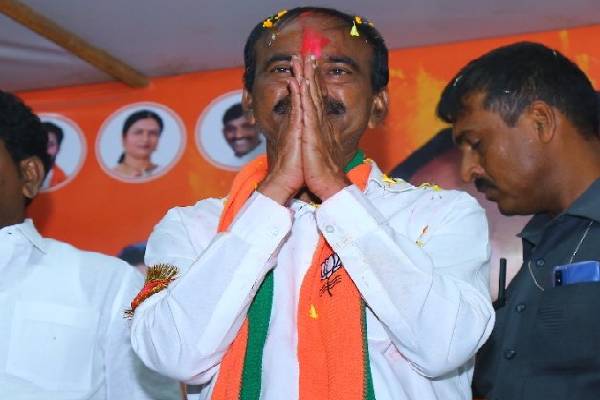 It will be a big embarrassment for Telangana Assembly speaker Pocharam Srinivas Reddy when Etela Rajender will take oath as MLA at 11.30 am on Wednesday.
Etela Rajender is all set to take oath as MLA from BJP in Speaker's chamber on Friday.
When Etela Rajender resigned as TRS MLA on June 12 this year after confrontation with TRS chief and Chief Minister K.Chandrashekar Rao, the speaker denied appointment to Etela to meet him to submit resignation.
With this, Etela was forced to submit his letter to Assembly secretary Narasimha Charyulu.
Etela felt very humiliated at speaker's treatment towards him as he was a six-time senior MLA from Huzurabad since 2004.
Etela said speaker denied appointment to him with a fear that KCR will get angry if he meets him.
Etela also felt very insulted after his resignation was approved by the speaker within minutes of submission and even before he came out of the Assembly building.
Etela said the speaker accepted his resignation within minutes due to fear of KCR.
Etela later joined BJP and trounced TRS in recent Huzurabad bypoll even after KCR spending thousands of crores of rupees.
Now, speaker has to administer oath to Etela on Wednesday.
In this way, Etela is taking revenge on speaker who humiliated him.