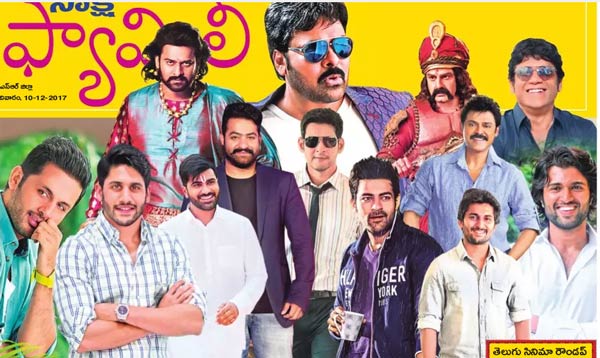 Some time back there was wide debate in social media whether Sakshi Channel is insecure about Pawan Kalyan. It happened during launch of NTR-Trivikram combo movie. Pawan Kalyan was chief guest for that function and almost all print media reported the camaraderie and rapport between Pawan and NTR during the launch of the movie. Surprisingly one of the leading news papers Sakshi completely ignored Pawan's presence. Telugu360 reported that incident and debate happened in social media. Similar thing again happened yesterday and this raised doubts whether Sakshi decided to completely sideline Pawan Kalyan even in cinema page and special editions except for any criticizing articles on Pawan Kalyan.
Yesterday Sakshi published an article with the title "Class Mass and Cash" in which performance of Tollywood in the year 2017 is analyzed. The feature photo they published included all major heroes like Chiranjeevi, NBK, Mahesh, etc. Also included heroes like Nitin, Nani, Vijay Devarakonda, Sharvanand etc. Only one person conspicuous by his absence in this photo is Pawan Kalyan. Actually Pawan did not deliver any big hit in the year 2017. If that is the reason for omitting his photo, same should have been done for Mahesh Babu also who did not deliver a hit in 2017. Usually this kind of small things need not be scrutinized. But as this is happening time and again one gets a doubt that it might not an aberration but it must be a conscious decision by Sakshi. While Pawan's photo missing in such feature articles, any negative stories or criticism on Pawan is never missed in Sakshi.
Actually Sakshi is not the only to follow such strategies. Even Eenadu daily also did almost similar act when it omitted mentioning Dasari Narayana Rao for more than a decade. it is known news that Ramoji and Dasari did not have proper terms almost for a decade. Initially when Dasari started Udayam news paper, it directly impacted Ramoji's business and they became business rivals. But it is actually after starting of ETV in 1995 the relation between Dasari and Ramoji really went haywire. The root cause of the issue was the tariffs in ETV for movie trailers and Dasari tried to unite Telugu film industry against ETV and urged film makers not to give any ads to ETV. ETV and Eenadu paper retaliated that movie by omitting Dasari name in their media. Even when they telecast movies directed by Dasari in ETV, they used to delete the frame that contains his name (story-screenplay-dialogue-direction Dasari Narayana Rao) . ETV did this for all his movies for almost a decade. But later Ramoji and Dasari patched up.
Now Sakshi seems to be following the same strategy. But definitely it's a bad strategy. Because when later they talk about other media channels and other print media as "yellow journalism" definitely these kind of small things also will be revealed in the discussions and question Sakshi's credibility too.
We have to wait and see if Sakshi continues the same strategy in future or this is also just another aberration from Sakshi.