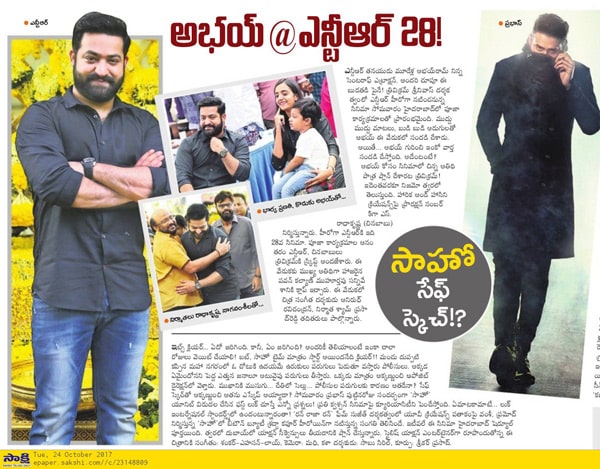 Sakshi, pawan Kalyan
Sakshi is leading Telugu daily and it is next only to Eenadu in its circulation. As everyone knows, Sakshi has huge bias in political news as it is owned by politician. But the same Sakshi newspaper is known to be unbiased when it comes to the cinema page and to "general news" page. So, people who don't buy-in YSRCP's political views also buy this paper as they like other sections like its family page and general articles. In the state(s) where cinema and politics go hand in hand, Sakshi used to maintain no bias when it comes to cinema page. During 2009 elections time also, it presented Chiranjeevi in a good way in cinema page (Magadheera released in 2009, in which Chiranjeevi played a cameo) even though political page had all criticism for Chiranjeevi and PRP. But it seems, now Sakshi changed on this front.
Yesterday, NTR-Trivikram combo movie started and Power star Pawan Kalyan attended this event and clapped for the "Muhurtham shot". Camaraderie among both the stars was a feast to eye balls. So this event was covered widely by both print and electronic media. However it was very surprising to see Sakshi paper completely avoided mentioning of Pawan Kalyan in its story and published photos without Pawan. While Eenadu paper covered the same event with the heading "Pawan clap , NTR action"", Sakshi played smart by giving the heading "Abhay @ NTR 28" and focusing on NTR's son presence in the event. Of course, in online version of Sakshi they posted Pawan's photos during this event. But in print version, which is actually read by many more than online version, they completely avoided mentioning Pawan. Readers who saw this article in Sakshi paper (print) were surprised and obviously doubted whether Sakshi is doing this intentionally. Also they doubted, whether Sakshi has planned to avoid or downplay Pawan's presence in such events in future too. If they are avoiding Pawan Kalyan's name in this kind of non-political news itself, we can easily imagine how they would cover Pawan's political activities.
The highlight of this entire episode is this: Jagan's media is intelligent enough to downplay their political rival's non-political activities. But the same Jagan wants other newspapers and media to give full-fledged coverage for his "political pada yathra" and help him become CM. What a double standard!!