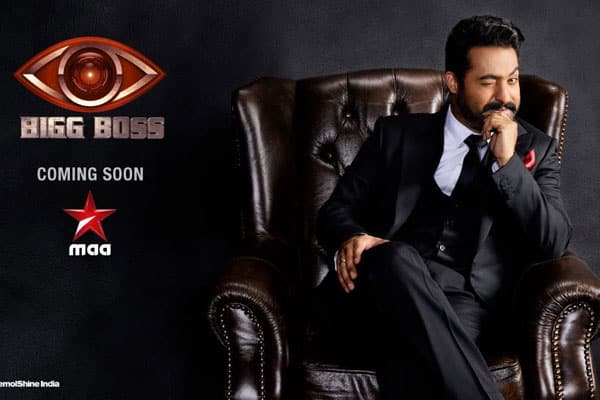 Tollywood actor Tarak or popularly known as Junior NTR is all set to host the Telugu version of reality show Bigg Boss, which is an adaptation of UK's Big Brother. The Hindi version of the show hosted by Salman Khan has completed 10 seasons and selection process for the season 11 has already commenced. Much of credit for Hindi Bigg Boss goes to the host Salman Khan. Likewise, Telugu Bigg Boss will be a lot about Tarak, even though he will be seen only twice a week on the small screen.
Bigg boss is a medium to reveal personal side and the housemates are generally popular faces from various fields. The Hindi version of Bigg Boss has been rated as adult content and season10 aired after 10:30pm. Consequently, if the show needs family viewership, the content needs to be significantly filtered. With cases being filed against shows like Patas and Jabardasth, Tarak must avoid a police complaint on his debut program.
The reality show is a platform for the host to give insights into his life. Audience are unequivocally interested to know more about their host. Tarak needs to open up and speak about his personal experiences. However, he should avoid making it look like a movie audio release function where everyone dramatically heaps praises on the hero and on one another.
With Megastar failing to generate the viewership for MEK, Tarak needs to realize that, a serious tone and constant self-obsession is going to be monotonous and irksome. So, every week he needs to bring in new energy not only to the contestants but to the viewers.
Another big thing to watch out is celebrities coming to promote their films. Unlike MEK where one full episode is dedicated to celebs, the fun activities can show Tarak's engagement with peers. The episode where Shah Rukh Khan shared Big boss stage with Salman Khan got the highest viewership ever. Consequently, Tarak sharing stage with his league of heroes will definitely boost TRPs. This medium is going to be a fine opportunity for Tarak to address the virtual battles among fan groups of top heroes.
Star MAA may try to bring in controversial contestants. It is easy for them to get on nerves. Fortunately, the weekends being scripted will be relatively easy for Tarak. But for those audience who watch it daily, the host has to bring in a fresh perspective every weekend. Tarak has to avoid sticking to the script, should come out with his own USP and dodge a diplomatic approach. Weekend episodes of Bigg Boss are known to have better TRPs compared to the weekdays.
A criticism of Salman's show is that, the Bollywood superstar modifies incidents that occurred in such a way that he ends up sounding biased. Salman once issued clarification on prejudice. So, it will be better if Tarak points rights and wrongs without favoring a contestant who is generating content. While giving away good advice and lecturing is noble, don't make it sound like a sermon.
Another annoying thing on season 10 was the constant admittance of Comedy nights Bachao team and the actors of remaining serials on Colors channel. It is absolutely critical if Deshamudrulu team avoids taking space on Tarak's show. And last of all, viewers do not want to see serials promotions and actors going gaga over the Tollywood star's aura. Even for movie promotions, unless it is a big hero, it would be better if the entire Sunday episode is not dedicated to movie stars.
Tarak is celebrated for his exceptional dancing skills, with Bigg boss, viewers will get to watch his dance every week on small screen. Nonetheless, Tarak who called the show "a game changer" has already broken the stereotype of his generation of heroes, as no top league actor attempted an appearance on the small screen. The shows like Deshamudrulu and Megastar's MEK that started after STAR acquired MAA did not work as expected, so hopes are high on Bigg Boss and soon it will be referred to as "Tarak's show".