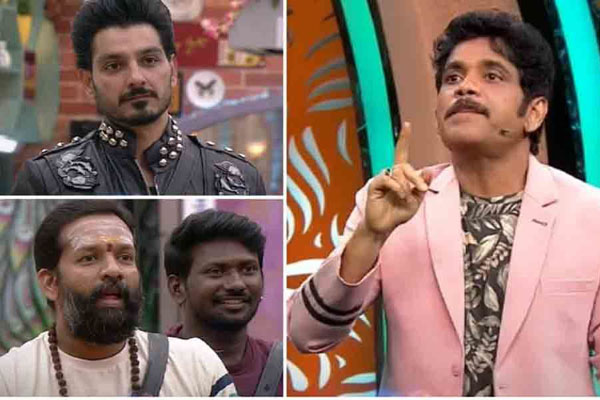 It's weekend episode of Bigg boss and people have been waiting to see Nagarjuna's hosting this week. To be frank, people are waiting to see whom will Nagarjuna reprimand this week.
Nagarjuna reprimanding housemates for wrong doings:
It is known news that Ali displayed arrogance during his argument with Mahesh. Nagarjuna appreciated his talents but reprimanded his arrogance. He also found fault at Baba for his passiveness during the fights between housemates.
Friends-Enemies and Brutus task
As per this task, each housemate has to name one housemate as the friend, one as enemy and one as Brutus. Brutus is name of Roman politician who is part of conspiracy in killing Caesar and is known as betrayer. After Bahubali, most of the Indians (especially Telugu people) using the word Kattappa as synonym for betrayer or backstabber. Brutus is similar to Kattappa in this task.
Punarnavi: Rahul is friend, Varun Tej is enemy and Vitika is Brutus i.e. betrayer. It is known news that Bigg boss showed Punarnavi that Vitka bad mouthed about Punarnavi in her absence.
Himaja: Friend is Sreemukhi, enemy is Vitika and Brutus as Ashu Reddy. She reminded Ashu's argument with her in the past.
Mahesh: He named Baba as friend, Ali as enemy and Sreemukhi as Brutus. But his reason about Sreemukhi didn't look justified.
Vitika: She name Himaja as friend, Himaja as enemy and Ravi as Brutus. He explanation on Ravi was not convincing and even Nagarjuna reminded that Ravi wiped her tears when she was in tears.
Rahul: He also named exactly same as Vitika.
Ashu: She named Himaja as brutus while Jyothy was friend and Baba as enemy..
Sreemukhi: She named Baba as friend and Rahul as enemy as expected but gave a twist by swapping them. She named Vitika as Brutus, as per the video shown by Bigg boss to Sreemukhi.
Varun: He named Mahesh as friend, Vitika as enemy and Punarnavi as Brutus. He explained that he didn't like Punarnavi spoiling 30 days friendship based on 30 seconds video she has seen.
Shivajyothy: She named Baba bhaskar as Brutus, Ashu as friend and Mahesh as enemy.
Baba Bhaskar: He named Sreemukhi as friend, Ali and Mahesh as Brutus but none as enemy.
Ravi: He named Jyothy as friend, Ali as enemy and Vitika as Brutus.
Ali : He named Jyothy as friend, Ravi as enemy and Himaja as Brutus.
Nominations:
Mahesh and Shivajyothy got saved today. Ashu, Baba Bhaskar, Punarnavi, Rahul and Himaja are still in danger zone. We need to wait and see who will be evicted tomorrow.