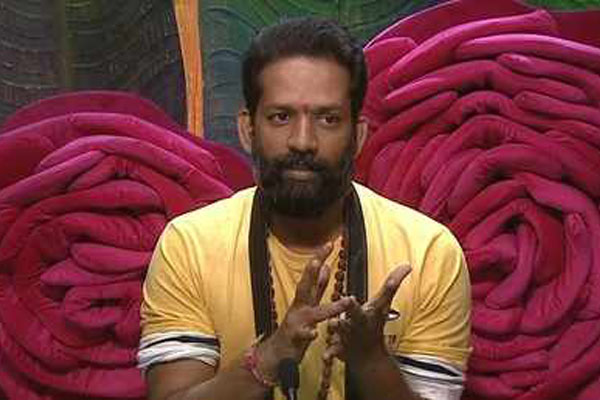 Bigg boss today gave a task to the housemates and if they win the task, they will get dinner from Bigg boss. Contestants go into confession room, do some task, come out and tell the housemates about what happened inside the room. Housemates have to guess whether they are telling truth or not.
House guessed some tasks correctly:
When Shivajyothy and Punarnavi entered into the room together, they were asked to say some rhymes and Telugu poems. After coming out, they told the house that they simply said some rhymes and poems, and housemates also easily predicted that they are saying truth. Sreemukhi was given a chance to speak to Nagarjuna's photo and when she came out she told she spoke to Nagarjuna. But housemates like Himaja predicted that she might have talked to Nagarjuna photo. Baba Bhaskar was asked to tell English alphabets and surprisingly he couldn't tell all the alphabets correctly. Shilpa was asked to convince the house that her husband is not happy about her footage in Bigg boss show but housemates easily guess that she was lying.
Bigg boss told Varun and Vitika to convince the house they are quarreling now because the video shown by Bigg boss. Even though both Varun and Vitika are good actors on screen, they couldn't convince the house and the housemates predicted that they are lying. Finally Bigg boss asked Mahesh to convince the house that he is eliminated today as part of surprise elimination. He tried his level best but none in the housemates believed it.
House got some guesses wrong:
When Rahul went into the confession room, Bigg boss asked him to do 50 sit-ups but after going out, he has to convince housemates that he got call from her mom and his marriage is fixed. House has to guess whether he is telling truth or not. Surprisingly, Rahul made housemates convince that he got call from his mom. In fact there was altercation between Varun and Sreemukhi after they got the answer wrong. Himaja even poked at the technique Sreemukhi used to predict whether Rahul is telling truth or lies.
However, as house could correctly guess most of the answers, Bigg boss provided them with special dinner party today. Overall, it was a passable episode. We will have to wait till this weekend to see who will be evicted this week.