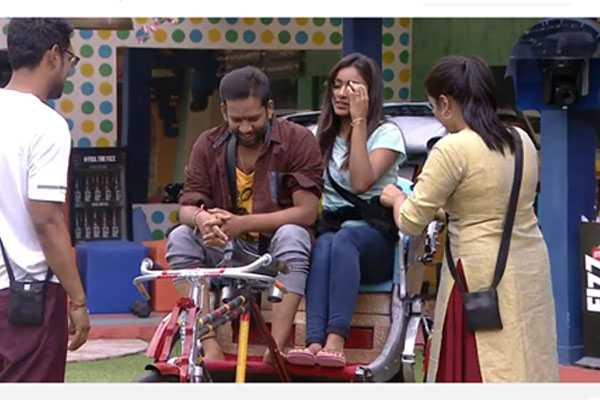 The battle of the medallion task continued today as well. It's the 3rd level of the task today. In the first level, Vithika won the task as the housemates like Varun and Rahul helped her. She directly reached the 3rd level. In 2nd level, Baba won the task. Today, third level of the fight was between Baba and Vithika.
As per this task, Baba and Vithika will be sitting in a rickshaw. Whoever steps down from Rickshaw first will be the loser and the other will be the winner. Both of them showed perseverance by not stepping out even when it was raining. Bigg boss gave them 10 green chilli each to eat. Both of them ate the green chillis but did not drink water to avoid the urge to urinate. However, after sometime Bigg boss sent them big bottles of Appy fizz to drink After having the drink Baba felt the pressing need to urinate. He asked for help to get some blankets to cover and bottles to urinate into. It is known news that, in season 2, Kaushal and Tanish also urinated during the tasks to avoid losing the game. Vithika objected to this and pushed Baba from the rickshaw.
As it is not mentioned clearly in the rules whether one can push the opponent out of the rickshaw or not, there was confusion among the housemates. However, Vithika justified her move that he doesn't want Baba to urinate there and that's why she pushed him. She told, she was even ready to get disqualified if Bigg boss decides so. Finally Bigg boss announced Vithika won the task.