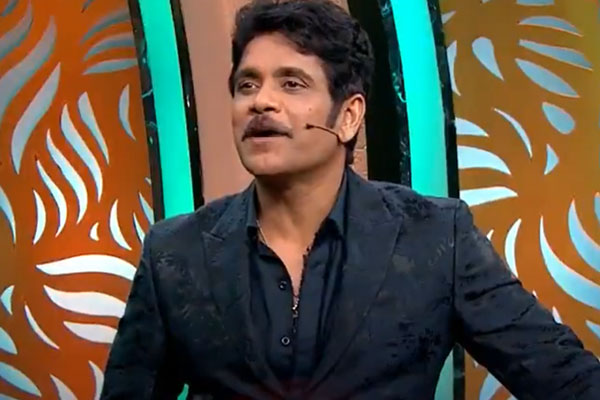 Bigg boss Sunday episode is full of fun and today's episode also loaded with lots of fun.
Fun task of masks:
Nagarjuna played a fun task with housemates today and as per this task, captain Shivajyothy has to label each housemate with an animal and they will wear mask of that animal. She also has to give reason for comparing that housemate's character with the traits of that animal. Shivajyothy compared the characteristics of the housemates with those of animals as below:
Ali Reza – Lion, for his bravery during tasks
Baba Bhaskar – Chameleon – for changing colors with the housemates
Mahesh – Fox, for being friend of Baba
Rahul – Deer, for always fearing for on the consequences of mess he created in previous weeks
Himaja – Elephant, for eating a lot in the house
Sreemukhi – monkey, for the obvious reasons i.e. her mischief with friends
Ravi – Dog, for the faithfulness towards
Ashu – snake, for the sweet revenge she has been taking on Jyothy after Rohini left the house
Varun – Tortoise, for being slow in the house as well being soft towards other housemates
Punarnavi – Rabbit, for eating lot of carrot Halva
Vitika – Sheep, for easily believing anyone and everyone
Fun task of Role play
This week there was another task of role play in which pairs of the housemates have to imitate each other. Ashu imitated Baba and Baba imitated Ashu. But Baba's imitation of Ashu was hilarious. Similarly Sreemukhi's imitation of Rahul made house split into laughs. Mahesh, being comedian, perfectly imitated Shivajyothy's temper and gave humorous touch to the role play. Same way, Ravi also imitated Himaja perfectly. Also, Ali Reza's imitation of Vitika was too hilarious as he imitated how she plays tantrums with her husband Varun.
Ashu evicted from house:
Dubsmash star Ashu Reddy eliminated from the house as expected. She has been passive in the house and it is only recently she has started showing her talents in the house. After elimination,she told that despite being in nominations, she didn't have negative feedback on her and leaving the house on positive note. Later she was asked to name who among the housemates are least qualified to be in the house. She named Mahesh, Rahul, Himaja and Vitika are least qualified to be in the house because of various reasons.
Overall it was very enjoyable episode.