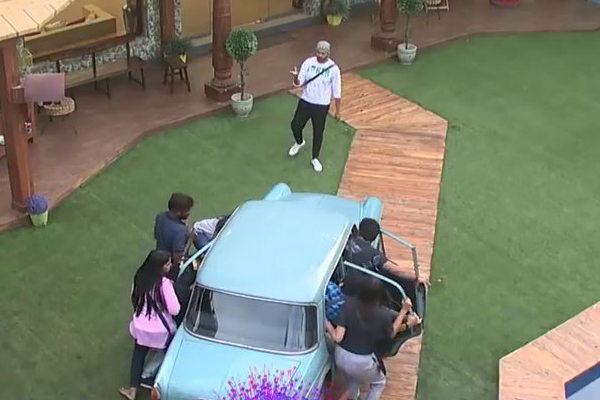 Bigg Boss today gave surprising task to the housemates. Whoever wins this task, will get ticket to finale episode. That means, they will have immunity from nominations and elimination for rest of the season until final episode.
Housemates were very much excited after hearing about this opportunity. As per this task, once siren buzzes, housemates have to enter into the car that is there in the garden place. The 5 housemates who enter into the car first will be competing for this ticket to finale. Out of these 5, whoever stays in the car for entire 24 hours period will be the winner. If anyone comes out or at least step out of the car, they will be disqualified. Another twist is, if more than one person is in the car at the end of the task after 24 hours, nobody will get the ticket to finale. that means by the end of the task, housemates can convince others to leave or even force others to leave the car.
However, as Kaushal is already nominated for entire season he cannot compete in this task. He will be overseeing this task. As per another rule, whoever touches the car before the siren sound will be disqualified to contest in this task. Kaushal disqualified Roll Rida after his mike touched the car. Roll Rida argued that he did not know that his mike is touching the car at all but Kaushal did not agree.
Finally – Tanish, Samrat, Deepthi, Shyamala, and Geetha entered the car. The task will continue tomorrow.