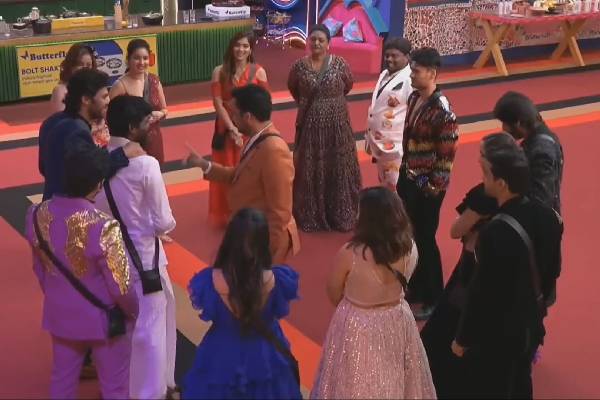 As the latest season of Bigg Boss Telugu kicks off, fans can already feel the drama and excitement building up. From special guest appearances to secret tasks and the beginning of the nomination process, Season 7 promises to be as thrilling as ever.
Naveen Polishetty's Surprise Entry:
The show got off to an unexpected start when actor Naveen Polishetty made a surprise appearance in the Bigg Boss house. Naveen joined the house as part of the promotion for his upcoming movie and participated in the "Lady Luck" task. In this task, male contestants were tasked with selecting their "lady luck" among the female contestants. This amusing task added a touch of fun to the atmosphere in the house.
The Missed Opportunity:
However, it wasn't all fun and games as some housemates were later seen discussing a missed opportunity. Host Nagarjuna had earlier given them a chance to leave the house with a briefcase containing a whopping 35 lakhs. In a surprising turn of events, all the contestants chose to stay and continue their Bigg Boss journey. This choice may come back to haunt them as the competition intensifies.
Rathika's Secret Task:
Bigg Boss always has some tricks up its sleeve, and this season is no exception. Rathika was assigned a secret task by Bigg Boss: she had to provoke an argument between contestants Amardeep and Priyanka. Success in this secret mission would guarantee her safety from nominations. Rathika sought assistance from fellow housemates Shobha Shetty and Tasty Teja, but it seems that she has yet to succeed in getting their support. The suspense is building as viewers await the outcome of this secret task.
Nomination Drama Begins:
The nomination process, a pivotal and often tension-filled aspect of Bigg Boss, has officially commenced in Season 7. The first nomination of the season began with Shivaji. In a unique twist, Shivaji was called into a secret room to make his nominations for eviction this week. He nominated Damini and Gowtham, explaining that Gowtham's financial stability and Damini's fame might save them from eviction. He also felt that neither of them contributed enough entertainment to the house. The interesting part is that both Damini and Gowtham were able to secretly observe what Shivaji was saying about them, as Bigg Boss had called them into separate rooms with live feeds.
Following Shivaji, Priyanka made her nominations, choosing Prashant and Rathika due to a perceived lack of closeness. Priyanka's nominations were also witnessed by the nominees, adding an extra layer of drama to the proceedings.
As the nomination process unfolds, contestants are seen openly discussing their choices for nominations. With a mix of entertainment, strategy, and unexpected twists, Season 7 is off to an exhilarating start, leaving viewers eagerly anticipating the drama that lies ahead.