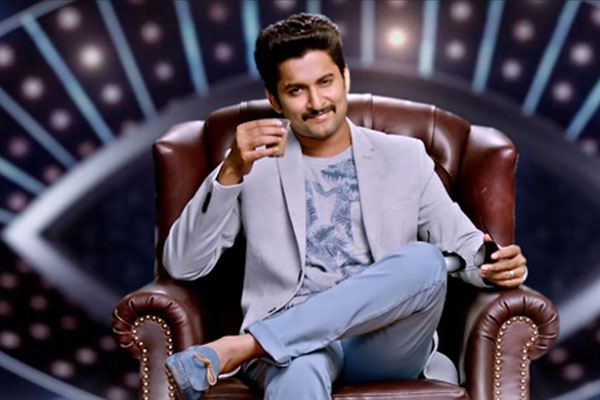 Ever since Nani agreed to do Bigg boss show, there has been curiosity among people on how he would run the show and whether he will be able to meet the benchmark set by NTR in season-1. Nani has been showing his humor and imitation skills during the show and making the episodes in which he is seen very enjoyable.
He started the show on strong note (https://www.telugu360.com/adirindi-babai-nani-enthralls-in-first-episode-of-biggboss-2/). His boy next door image and his hosting skills worked for the show. The below have been some incidents till date in which he showed his exemplary skills in hosting the show, his sense of humor and he even imitated subtly some personalities during the show.
Nani imitating YS Jagan:
This happened during initial weeks. Roll Rida used to "console" other housemates in the initial episodes. In one such episode, Roll Rida was seen consoling Nutan Naidu when Tejaswi bursted on him. Later, when Kireeti was bit down as he was struggling to adjust with the format of the game show, again Roll Rida tried his best to motivate him. The following Saturday, Nani asked Roll Rida "What is that 'Odarpu' you are doing to housemates. While using the word 'Odarpu', he stressed that word and imitated YS Jagan subtly -like Jagan touches cheeks of people with his both hands.
Nani imitating Bigg boss himself:
This week, Nani made a satire on Amit's way of talking in Telugu. Usually he speaks word by word. Nani told, there is only one other person in the house who gives so many pauses while talking and it is none other than Bigg boss. While this spontaneous statement evoked laughs in the house, Nani imitated Bigg boss voice and that brought laughs in the house as well as among audience.
Nani imitating Ohmkar:
He also imitated that famous dialogue of Ohmkar – "One second" during the show while one of the audience was about to start the conversation. Those who watched Ohmkar's Sixth sense show couldn't stop appreciating the timing of Nani.
Satire on youtube videos:
Nani didn't leave youtube videos too. Whenever he was about to show some video footage, he always says "choosthe shock avutharu" (you will be shocked if you see this video), poking at the titles of you tube videos.
His teasing of Tejaswi and Samrat's chemistry with the word "inka inka" is now very popular in Telugu states.(https://www.telugu360.com/biggboss-tidbits-nanis-teasing-of-samrat-and-tejaswi-evoked-laughs/). Also Nani's teasing of Gogineni's dance steps, and improvising "Naa TV (My TV)" in season-1 as "Naa nee TV (My and your TV)" that sounds like "Nani TV" all show how careful he is about details and how ease he is at his skill.
However, as will all Bigg boss shows in all seasons, the show's success depends as much on housemates as much on the host. Even before the start of the show itself, people had confidence on Nani's skills as they had earlier seen his hosting and Nani definitely lived up to their expectations and he proved he is surely master of the craft.
-Zuran