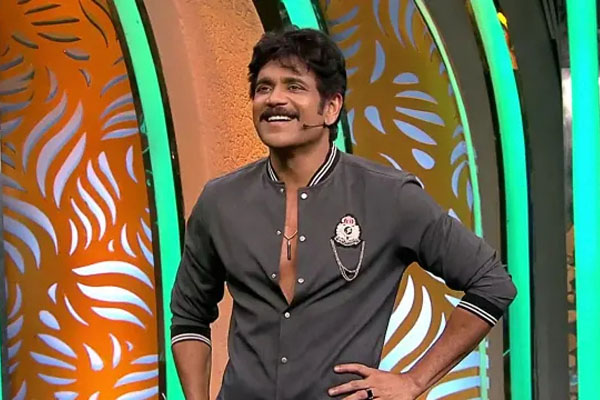 Bigg Boss Season 3 Telugu is doing very well in terms of TRP ratings. In fact, it surpassed season 1 and season 2 ratings already. The host of the show Nagarjuna revealed this when he joined the house on the festive day of Dasara. Weekend episodes of Bigg boss get even better ratings than weekday episodes.
New titles to the housemates:
In today's episode, Nagarjuna asked the housemates to select housemates that match the given title. Vithika selected, the person depending on others the most is Rahul. When Baba is asked to identify who is the most dangerous person in the house, he selected Vithika. When Mahesh was asked to select who is the person always chanting someone in the house, he selected Shiva Jyothy. Varun gave 'The energy drink' title to Rahul. Ali gave 'boring' (Suthi) title to Shiva Jyothy. Rahul gave the title of 'most gullible' to Baba Bhaskar.
What will you do if you get 50 lakhs:
Nagarjuna asked all the housemates to tell what will they do if they get the title and 50 lakhs. Housemates like Mahesh told, he will buy a flat for their parents as they are still tenants. Rahul told that he will start a saloon business for his father as staying idle may take a toll on his health at this age. Sreemukhi recalled her middle-class past and told that he will give entire money for parents and she doesn't take a single paise out of these 50 lakhs for her own. Baba told his wife will decide. Varun told, he didn't think of it. Vithika told, she will save it as a fixed deposit and ensure they will not repeat the hardships of the past.
Who doesn't deserve Bigg boss prize money of 50 lakhs:
Nagarjuna asked the housemates to name one person who does not deserve Bigg boss prize money of 50 lakhs. Both Vithika and Varun named Baba Bhaskar as the person who doesn't deserve the title. Rahul named Varun saying he is better off than many others in the house and so he doesn't need these 50 lakhs. Sreemukhi named Mahesh because of Mahesh's recent arrogant comments that, if he is given power, he will eliminate Sreemukhi immediately. Ali and Shiva Jyothi named Mahesh. Baba named Varun.
Nominations:
Out of Varun, Rahul, and Mahesh, none is saved today and all the three are in danger zone. As per reports, it will be Mahesh Vitta who will be exiting the house this week. We will have to wait till tomorrow, to officially know who is leaving the house this week.