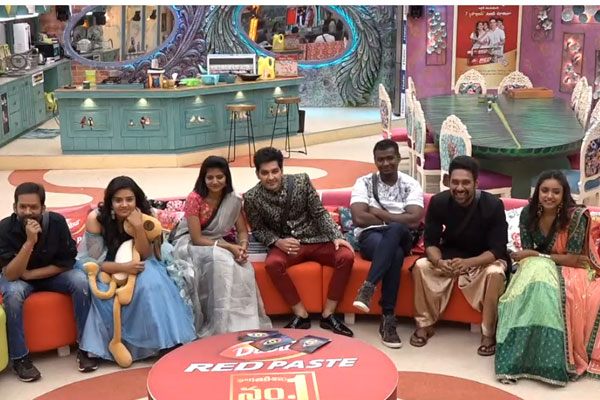 Bigg boss weekend episode this week is full of arguments as well as fun. During this episode, contestants are asked to rate themselves. Later, family members of the housemates joined the show and they are asked to guess who are the non-finalists among the 7.
Self-ratings of the contestants:
Nagarjuna asked the housemates to give their own rankings. Rahul told, as per his own estimation, he is at 4th rank and Ali, Shiv Jyothy and Vithika are better than him. Vithika gave herself 3rd rank nd told she believes, Sreemukhi is better than her. Baba Bhaskar gave herself 3rd rank and told, Sreemukhi at 1st place and Varun or Shiva Jyothy at 2nd place. Ali rated himself at 2nd place and told Shiva Jyothy at 1st place. Shiva Jyothy rated herself 1st rank, but it looked overconfident as she is surviving just because she didn't come to nominations in the last several weeks. Moreover, she shivers at just the thought of nominations and fights tooth and nail to avoid nominations. Varun gave himself the least rating of 7, probably, to show his humility. Sreemukhi gave herself 1st rank but only 42% of the audience accepted her self-rating.
Family members' ratings:
Family members of the housemates joined Nagarjuna today. He asked them to tell who is in the 6th and 7th positions as per them. Varun's sister Pooja opined Shiva Jyothy and Ali at 6th and 7th place. Sreemukhi's father gave 6th position to Ali and 7th position to Vithika. Shiva Jyothy's friend gave 6th position to Ali and 7th position to Vithika. Vithika's mother gave the 6th position to Ali and 7th position to Shiva Jyothy. She became very emotional after seeing her daughter. Anchor Ravi, who is a friend of Ali, opined Vithika at 6th place and Shiva Jyothy at 7th place. Singer Noel, a friend of Rahul, opined Vithika and Baba can't make it to finals. Baba Bhaskar's sister opined Vithika and Ali can't make it to finals.
Overall, most of them put 2 out of the Shiva Jyothy, Ali and Vithika in the bottom 2 places. Housemates might have got clarity about their actual positions after the evaluations by family members.
Nominations:
Sreemukhi, Baba, and Rahul got saved today and the rest of the housemates are still in danger zone. We have to wait and see who will be evicted tomorrow.