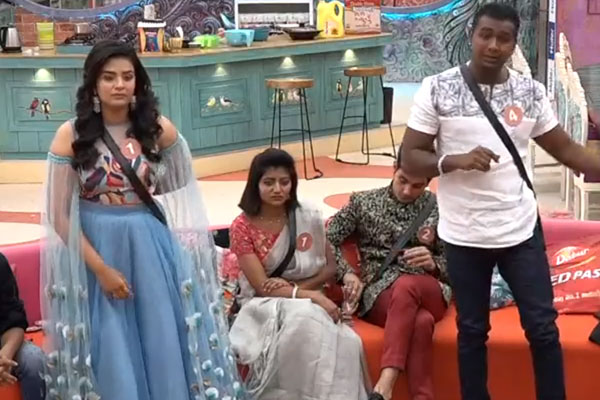 Bigg boss show is a test of not only physical stamina but also mental stamina and emotional strength. In each season audience see a couple of housemates developing a bitter rivalry. Last season, Kaushal and Tejaswi developed almost bitter rivalry that carried for some days even after the show. In other languages also similar things happened many times.
Rahul weird allegation and challenge to quit the show:
In Bigg boss season 3 Telugu, Sreemukhi and Rahul seemed to have developed bitter rivalry and they are carrying it even outside the tasks. It started in the initial weeks when Rahul called Sreemukhi 'Faltoo lady' and insulted her anchor job. Sreemukhi took it seriously and started nominating him every week. Rahul also retaliated equally and their rivalry continued. Sreemukhi's mother also requested Rahul to be a bit soft towards Sreemukhi, when she entered the house recently. In today's episode, they again continued their altercations. During the discussion with Nagarjuna, Rahul made a weird allegation on Sreemukhi that she has been doing propaganda that it is because of her recommendation, he is in the house. At some point, he told, if this allegation is not true, he will walk out of the house immediately. Even Sreemukhi challenged that, if it is true, she is also ready to walk out of the house.
Rahul's allegation turned out to be false:
Sreemukhi refuted Rahul's allegations and asked to reveal who told him that. Rahul told Vithika told him in the 3rd or 4th week. Vithika immediately condemned saying, she didn't have a rapport with Sreemukhi to discuss such things in the early weeks and she never told such a thing. Then Rahul told, it could be Varun but Varun also responded that he never told Rahul such thing. With both Varun and Vithika refuting the allegations, Rahul lost the grounds and the audience too felt he is just overthinking and that is causing him such illusion.
Nagarjuna also told the same and convinced Rahul that is some miscommunication or 'lost in translation' stuff. Nagarjuna also found fault with Rahul for not clarifying this directly and keeping it in his head for so long. However, neither Rahul nor Sreemukhi left the house because of this challenge as Nagarjuna gave a logical conclusion to this altercation.
We have to wait and see how this rivalry turn in the next 2 weeks, given the fact that the main competition is between these contestants for the title.