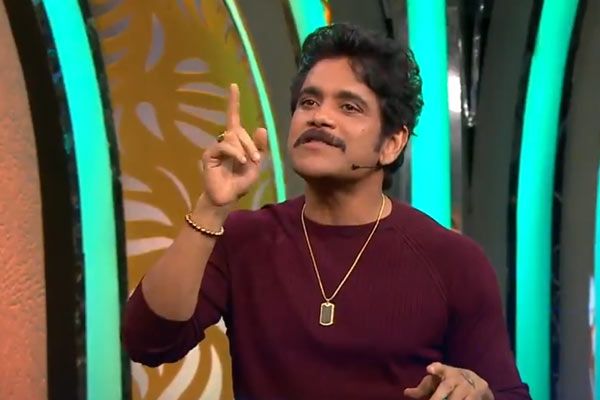 Bigg boss weekend episode is back and host Nagarjuna is back with bang. It's known news that he was out of the country last week and so Ramya Krishna handled the show on his behalf. Housemates were so happy to see him back.
 
BB Police station task:
 
Nagarjuna asked the housmates to play Baba Bhaskar police station task. As per this task, each one can complain on one of the housemates, house and station master Baba Bhaskar will decide whether that housemate is guilty or not.

 

Vitika complained on Varun for pulling the gun from her during the task. She complained that he did that not because of concern but only to play game better than her. Housemates however didn't find fault with Varun. 
Punarnavi complained on Ali for his aggressive nature during the tasks. She reminded about the way he played during captaincy task to support Srimukhi. Most of the housemates also found fault with Ali Reza. 
Mahesh complained on Rahul as Rahul lambasted Mahesh during the task. But Mahesh also added that they did reconcile already. Nagarjuna reminded that Rahul has always been loose-tongued in this show. All the housemates unanimously found Rahul guilty.
Wild card entry Shilpa Chakravarthy complained on Ali Reza for the rude comments on her. Baba Bhaskar, who is station master in this task, dismissed this case.
Himaja complained on Ravi but it was not really a complaint but just a concern and so complaint was dismissed. Ravi's complaint on Vitika also dismissed by the house.
Varun Sandesh complained on Ali for breaking the rules during captaincy task. It is known news that Ali tried to help Srimukhi by bypassing the rules despite Varun objecting and reminding the rules. House unanimously found Ali guilty.
Jyothy complained on Ali and Ravi for being aggressive during the tasks.  House unanimously found them guilty. 
Srimukhi complained on Rahul for being aggressive during the task but Sreemukhi complaining on Rahul every week becoming monotonous.
 
Nagarjuna reprimanding the housemates:
Nagarjuna reprimanded Baba Bhaskar for framing his own rules like – women should not wear shorts. He also reprimanded Srimukhi for nominating Ravi for Jail instead of Ali. Nagarjuna corrected Vitika by saying she should become a strength to Varun but she is becoming weakness to him instead. 
Nominations:
Out of Rahul, Ali, Srimukhi, Ravi and Mahesh, only Rahul got saved today and rest of the four are still in danger zone. We will have to wait till tomorrow to know who will leave the house tomorrow.