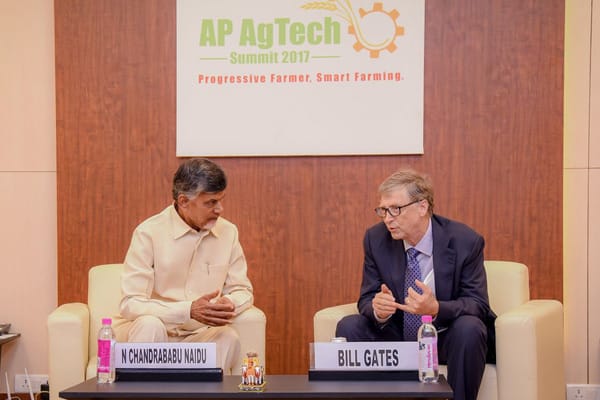 Bill Gates recalls first meeting with Chandrababu
Microsoft Founder Bill Gates on Friday said he was really excited at meeting Andhra Pradesh Chief Minister N. Chandrababu Naidu for the first time over 20 years ago.
Addressing the valedictory of the three-day AP AgTech Summit 2017, the Co-Chair of Bill and Melinda Gates Foundation recalled his meeting with Naidu who was then Chief Minister of undivided Andhra Pradesh.
"I was told that there is someone who believes in digital technology even more than you do. It was hard to believe but when we met, he had his digital equipment — computer — and he had the vision to make government better by using advanced tools," said Gates.
He also revealed that they agreed and today they have reached a milestone as they can use dashboards for agriculture and health. He also referred to the use of Microsoft app Kaizala by the state government for its activity.
"It's been a real journey over these 20 years, making that vision a reality. I expect it to accelerate and in the years ahead will move very quickly," said Gates.
Earlier, Naidu in his speech revealed how he managed to get an appointment with Gates for 10 minutes but the latter spent 40 minutes with him. "I made a presentation through laptop and I was the first Indian politician to do so," the Chief Minister claimed.
Naidu explained how he convinced Gates to set up Microsoft's development centre in Hyderabad. "Not only Microsoft opened its development centre in Hyderabad but Satya Nadella who is from our place became Microsoft CEO."
Terming Gates as a great personality, the Chief Minister said he was spending the money he earned to help people around the world.