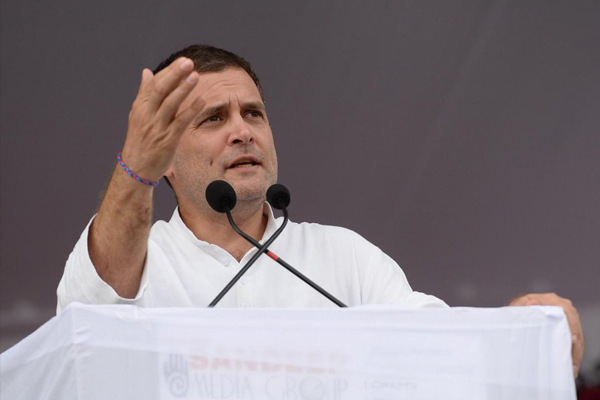 During his current tour in Kurnool, All India Congress Committee President Rahul Gandhi criticized the BJP government at the centre in a no-holds-barred attack. He said that the BJP leadership had failed to do justice to the AP people on all fronts in the past four years of its rule.
Addressing Satyameva Jayate public meeting in the town, he recalled that when the then Prime Minister Manmohan Singh promised special status for five years, the BJP leaders demanded it for 10 years.
But after coming to power, the BJP did nothing to fulfill that promise while at the same time taking a totally different stand, he said. Rahul emphatically said that the special status should not be seen just as a political promise but it should be regarded as the right of the AP people. He deplored that the BJP had not hesitated to carry out a misinformation campaign to leave an impression that the status couldn't be possible. Referring to other aspects, Rahul said that the BJP leaders had also failed on promises such as Kadapa steel plant, development of backward regions via special packages, national project status to the lifeline Polavaram project and Vizag railway zone. He also lamented that there was no progress in execution of various central educational institutions in AP. Rahul said that the ruling party at the centre clearly had no respect for the AP Reorganization Act 2014. He promised that he would put his first signature on the special status file after winning the 2019 elections.
United AP's last chief minister N Kiran Kumar Reddy asserted that AP would get special status only if Rahul became elected as the Prime Minister of the country in next election. Congress AP Observer Oommen Chandy, Party State President N Raghuveera Reddy, former minister Kotla Surya Prakash Reddy and others spoke.