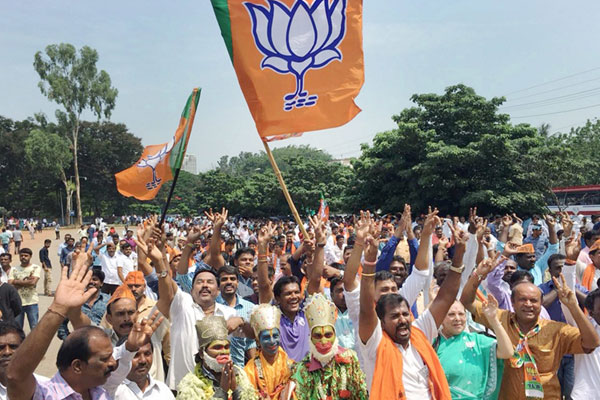 BJP defeat in Karnataka seems to have given big boost to his opponents. It is pretty evident from the list of leaders attending oath taking ceremony of Kumara swany gowda in Karnataka. Below is the guest list for oath taking of HD Kumaraswamy
1. Aarvind Kejriwal.
2. Mayawati
3. Mamta Banerjee
4. Pinarayi Vijayan
5. Akhilesh Yadav
6. Tejaswi Yadav
7. Chandrababu Naidu
8. KCR
9. Ajit Singh
10. Rahul Gandhi
11. Sonia Gandhi
12. Kamal Haasan
13. M.K. Stalin
There might be one or two names that may miss the function and one or two more leaders may join the function but overall, the theme is same – i.e. anti-Modi and anti-BJP forces are uniting.
In fact even in UP assembly elections that gave thumping majority for BJP and made Yogi CM of the state, positive vote for BJP is less than anti-BJP vote. But BJP won it because Mayawati, who got 19% vote bank was not in the alliance of COngress and SP. Had BSP also been in the alliance, it would have been similar to result of Bihar election where Nitish and Lalu united.
Even during Karnataka also, Mamta suggested JDS and COng should have gone for pre-poll alliance and if that had happened, BJP would have got even lesser seats.
But anyway, seems all the parties have now learnt the lessons and uniting for the cause of defeating Modi. If such grand alliance happens, it is not really difficult to crush BJP in 2019 general elections.