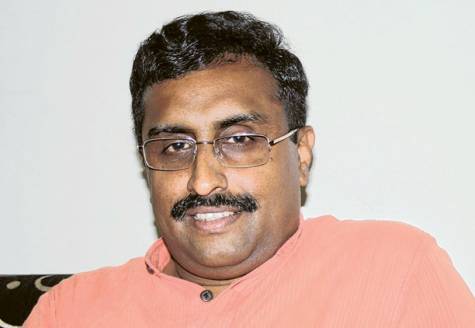 [dropcap]R[/dropcap]am Madhav, the voice of RSS in BJP and the only Telugu RSS leader to achieve national recognition, was caught on wrong foot on the Yoga Day- not because he faltered in performing Yoga at historic Jan Path in Delhi on last Sunday.
He chose to criticize an important and respected dignitary of the country on the day for not showing up at Jan Path.
But he chose wrong targets, Vice President Hamid Ansari and Rajya Sabha TV he controls. The reason is obvious.
Having not found the Vice President around on Yoga Day, he tweeted "Two questions. Did RS TV dat runs on Taxpayers money completely blackout Yoga Day event? While President participated d VP gave a miss?" It immediately drew criticism from all quarters. Ram Madhav, now BJP general secretary, did not make sure if the Yoga Day was being observed as government event or a voluntary program.
It was a voluntary program. And also the Vice President had not been invited. Ansari's office clarified later.
Even on Rajya Sabha TV coverage also he committed faux pas. The event was not ignored by RSTV. The Social media responded with YouTube links of the RS TV coverage of Yoga Day.
Scenting the strong reaction, Ram Madhav immediately removed his tweets. However, the government had to apologize to the Vice President. Union minister of state for AYUSH Shripad Naik tendered his apologies when media sought his reaction to the tweets of Ram Madhav.
"Unknowingly, something happens, we apologize for that. It should have been avoided. It's a mistake. He (Ram Madhav) agrees. He apologized. He withdrew his statement," Naik said.
On not inviting the Vice President, the minister cited protocol and said the vice president can't be invited to an event where the Prime Minister is chief guest.
"That is protocol. That's why we did not send invite to the Vice President. President and Vice President are above the Prime Minister as per order of precedence and we cannot invite them accordingly." The minister said.
Interestingly, the growth of Ram Madhav in RSS is phenomenal. Madhav is born into a Konaseem Brahmin family in 1964. He studied polytechnic. Later earned his masters from Mysore University. A voracious leader and astute analytical skill, Ram Madhav attracted the RSS bosses' attention through his flawless articulation. Before moving to Delhi as spokesperson of RSS, he was associate editor of RSS Telugu magazine Jagruthi, published from Hyderabad. As a spokesperson during NDA days in late 1990s he was a success. Equally fluent in English and Hindi as in Telugu, Ram Madhav is most accessible leader for media. After advent of Modi era in 2014, RSS deputed him to BJP where he was appointed general secretary. He played crucial role in the bringing together BJP and PDP to form a first BJP government in J &K. Recently he authored a book "Uneasy Neighbors: India and China after Fifty Years of the War".
Party sources say Madhav has designed a strategy for Andhra Pradesh as well. His plan is to attract leaders from all communities to strengthen the BJP as a force in Andhra Pradesh. His friends say he is for charting an independent course instead of sailing with TDP as a minor ally. BJP leaders are clueless about when he would put his agenda to practice.
(jnr)