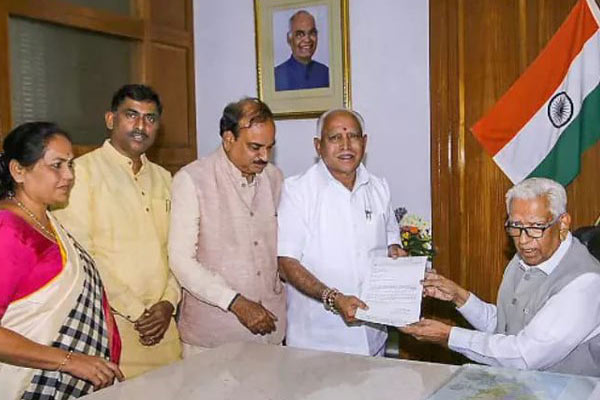 Amid jockeying for power in Karnataka, and the Supreme Court early on Thursday after a midnight hearing — only second time in its history — refused to stay the swearing-in of BJP leader B.S. Yeddyurappa as Karnataka's new Chief Minister.
The top court heard a joint petition by the Congress and Janata Dal-Secular (JD-S) challenging Governor Vajubhai Vala's decision inviting Yeddyurappa to form a new government in the state despite having 104 MLAs — eight short of simple majority.
The three-judge bench of the Supreme Court refused to stay the Governor's invitation but did not dismiss the Congress-JD-S petition, saying it was subject to hearing later on.
The court also issued a notice to Yeddyurappa, asking them file a reply even former Attorney General Mukul Rohatgi, who appeared for the BJP said how long Yeddyurappa should be be given to prove majority could be debated after two days.
The petition was filed late on Wednesday night after Governor Vala invited Yeddyurappa for an oath taking ceremony on Thursday at 9 a.m. and gave him days to prove his majority in the legislative assembly.
The Congress and the JD-S, who formed a hurriedly stitched post-poll alliance after a hung assembly verdict to claim a majority of 116 members in the new assembly, called the Governor's decision "unconstitutional".
"The BJP has only 104 MLAs, the Governor invited Yeddyurappa to form government in an unconstitutional manner," senior counsel Abhishek Manu Singhvi, who appeared for the Congress told the three-member bench of Justices A.K. Sikri, S.A. Bobde and Ashok Bhushan.
Chief Justice Dipak Misra constituted the bench shortly after midnight on Wednesday to hear the matter in court number six of the Supreme Court.
Earlier when the Supreme Court held a midnight hearing was when death-row convict Yakub Memon woke it up at 3.20 a.m. on June 30, 2015 — the day of his execution.
Singhvi argued in the full pack court room and talked about occasions when post-poll alliances have been called despite single largest party.
He cited the instances of Goa and Manipur where the Congress had emerged as the single largest party sans majority but post-alliances were invited to form governments.
He said in the case of Karnataka, it was unheard of a Chief Minister who doesn't have a majority was given 15 days to conduct floor test.
"There is only one way a party which got 104 will get 113… I heard he asked for seven days, but the Governor gave 15 days. Elementary common sense and arithmetic against this kind of giving of time," Singhvi said.
He said in Jharkhand in 2005, Goa in 2017 and in the Jagadambika Pal case in Uttar Pradesh, the court advanced the date of floor test from seven days to 48 hours.
"It is biggest license to poaching if Governor gives 15 days to the BJP to prove majority," he said.
To this, the Justices Sikri, Bobde and Bhushan said they were wondering whether the Supreme Court can restrain a Governor that might lead to constitutional vacuum in a state.
They said that the general trend of the past Supreme Court judgements was not to issue injunction to Governor or to restrain Governor.
Singhvi responded: "It is not like restraining the Governor, who only acted in pursuance of the BJP letter. Act of swearing-in is less than they make it out to be.
"If President's rule under Article 356 can be stayed by a court, why not this (decision to invite BJP and give 15 days for floor test) in which a Governor has exercised his discretion without the aid and advice of the Cabinet?"
Attorney General K.K. Venugopal, appearing for the Centre, in his argument said everything was in the realm of "speculation" as the entire matter was still "a grey area".
Former AG Mukul Rohatgi who appeared for the BJP questioned the urgency of the matter to hear it at midnight.
"Will heavens fall if a person is sworn in in the morning?" he said.
Justice Sikri asked him to submit before the court how his side was claiming a majority in the House.
Venugopal intervened and said, "Everything is reversible. What is the great loss by waiting for 15 days."
Justice Bobde countered: "That is the other point. Why wait for 15 days?"
Venugopal said it was the Governor's decision and it was an area of darkness how Yeddyurappa was claiming to form the government.
"But let the swearing-in go on. This is a purely reversible situation."
The court observed that it was "preposterous" to argue that before MLAs take oath they were not amenable to anti-defection law. "It means open invitation to horse-trading."
"In a case like this where the opposite side is showing 117 MLAs support, how will you have 112?," Justice Sikri asked Venugopal.
The case was still being heard till early morning on Thursday.