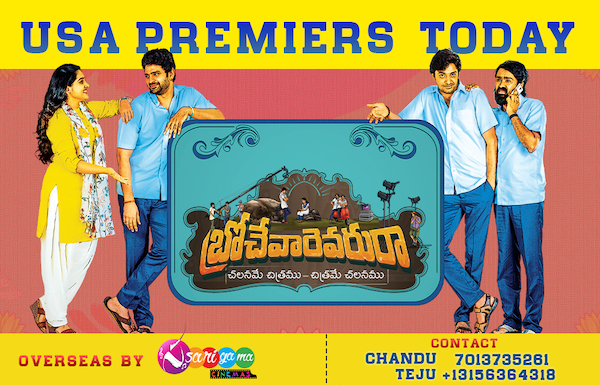 THE day is finally here!!! Presenting Brochevarevarura to overseas by Sarigama Cinemas.
Young hero Sree Vishnu and director Vivek Athreya have teamed up for the second time for a crime comedy, 'Brochevarevarura' with golden glam doll Nivetha Thomas. Priyadarshi and Rahul Ramakrishna also have key roles to play.
The story is about three youngsters who decide to settle in life by committing a crime. They kidnap a girl and demand ransom for it. Will they be able to pull it off successfully? Aren't you interested to know the answer? Then why not watch this film to know the answer at your nearest theatres on 27th June?
The premiers are scheduled to be released on 27th of June 2019, is distributed by Sarigama Cinemas.
The online ticketing was opened and are priced as reasonable as $12 per ticket (Adults) or $9 per ticket (Kids).
Once again, our sincere thanks to Manyam Productions for extending their support and providing us this opportunity to travel this prestigious journey.
Sarigama Cinemas continues to deliver the highest calibre of movies & entertainment to overseas audiences. We appreciate your trust, and we look forward from our filmmakers & exhibitors to continued support.
CLICK HERE!! for the USA Schedules.
Press release by: Indian Clicks, LLC