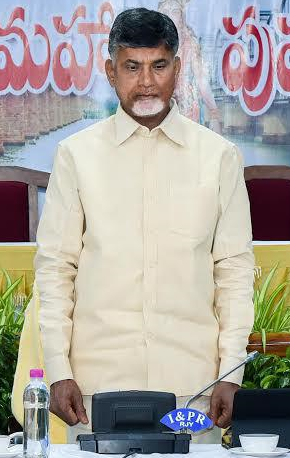 Andhra Pradesh cabinet which met in Rajahmundry for four hours took light of the stampede on the first day of Godavari Pushkaralu. The four-hour long meeting, held in R&B guest house in the city, devoted a just minute silence to pay condolences to those crushed to death in the stampede reportedly caused by the delayed pujas by chief minister a ghat which not designated for VVIPs.
Though chief minister Chandrababu Naidu announced Judicial inquiry into the causes of stampede deaths, the cabinet is said to be in favor of an inquiry by a retired judge. State government is not keen on getting a sitting judge of High Court appointed for inquiry. I &PR minister, Palle Raghuntha Reddy indicated to this effect after cabinet meeting .  This is likely to trigger opposition from opposition parties  as they have been demanding a probe by a sitting judge of the High Court.
The meeting, chaired by the chief minister,  went gaga about greatness of Andhra Pradesh, the resources available and state government's commitment to build a new capital with international standards. The cabinet decided to send a team to study to beautiful capitals of Central Asia, Astana (Kazakhstan)and Ashgabat (Turkmenistan).
The minister  said Prime Minister Narendra Modi suggested that a team from state should  visit Kazakh and Turkmenistan capitals to study the architectural designs.  Palle said the state government was committed to build the capital with international standards. He said state would call upon Japan and Singapore to participate in the Swiss Challenge model to build the capital.
The cabinet called upon people of the state to celebrate the closing ceremony of Godavari Pushkaralu with state-wide participation in a grand way. The cabinet wants every family in the state to perform "deeparadhana" (lighting of lamp) as part of the Pushkara Jyothi to mark the closing of the Mahapushkaralu.
In a surprise turn, the cabinet fully backed TDP MLA Chintamaneni Prabhakar, who allegedly manhandled MRO Vanajakshi. Giving clean to chit to the MLA, the cabinet felt that the revenue official was at fault in not taking cognizance of the permission to mine the sand and for crossing the boundary of the district.