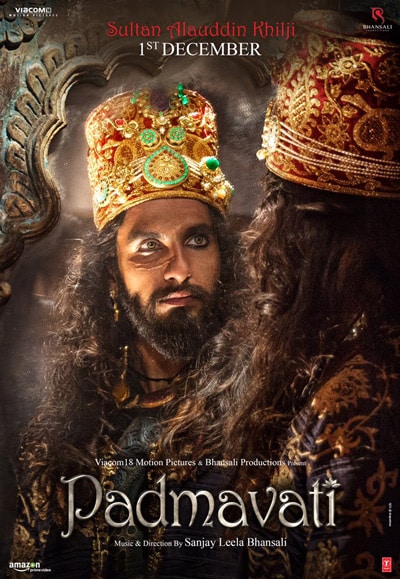 Bollywood actor Ranveer Singh stuns as Alauddin Khilji in the third look revealed after Deepika Padukone's Padmavati and Shahid Kapoor's Maharawal Ratan Singh.
He is killing it with Kohl in eyes, the long locks, the muscular body and intense royal look. With vicious looks, Ranveer is making us feel December is very far away.
Padmavati is a story dating back to 14th century when ruler Alauddin Khilji fell in love with the queen Padmini. It will hit screens on December1st.
SULTAN ALAUDDIN KHILJI #Khilji pic.twitter.com/Ls2IznAq1c

— Ranveer Singh (@RanveerOfficial) October 2, 2017
SULTAN ALAUDDIN KHILJI #Khilji pic.twitter.com/DNtht5bHcQ

— Ranveer Singh (@RanveerOfficial) October 2, 2017
. @ShahidKapoor as #MaharawalRatanSingh ⚔ pic.twitter.com/FyztjPlw8q

— Ranveer Singh (@RanveerOfficial) September 25, 2017
Presenting….@ShahidKapoor….as #MaharawalRatanSingh ⚔ pic.twitter.com/L0z83gPpem

— Ranveer Singh (@RanveerOfficial) September 25, 2017
रानीपद्मावती #Padmavati @FilmPadmavati⁠⁠⁠⁠ pic.twitter.com/6bHuybNpbN

— Ranveer Singh (@RanveerOfficial) September 23, 2017