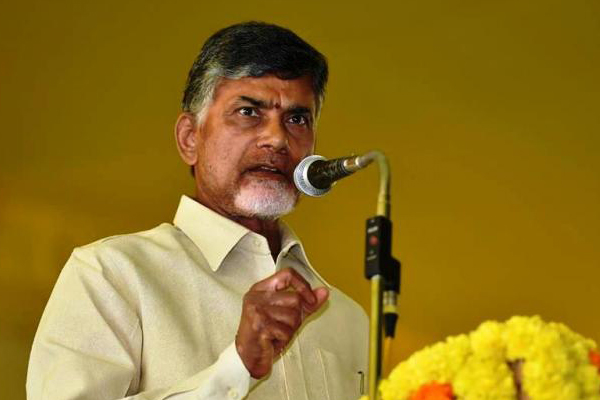 Criticising BJP for giving a tough time to AP people, Chief Minister N Chandrababu Naidu said the Central government has been acting cruelly towards AP state ever since TDP cut off its ties with Prime Minister Modi and NDA.
Naidu addressed a meeting held after unveiling a pylon for Byravanithippa irrigation project site in Anantapur district on Wednesday.
Speaking on occasion, he said the Centre would have to pay Rs. 24,000 crore by now towards supporting 7 backward districts in AP if it abides by the promises made to such needy districts as per the Bundelkhand package.
Naidu said that it was agreed for Central assistance of Rs. 50 cr per district per year but even this promise was not being honoured by Modi government in respect of AP alone.
In violation of fair banking practices, the Centre had first deposited last year's funds in AP government's account and immediately withdrew it without intimating AP and without the slightest respect to established norms and procedures, he said.
Naidu threatened that there would be serious consequences if the BJP government continued to put problems to AP people by totally neglecting to honour the state reorganisation promises on special status, tax reliefs, financial assistance and so on.
While welcoming Central package for nine districts in Telangana, Naidu said similar assistance should be given to four districts in Rayalaseema region and three districts in North Coastal Andhra region in AP.
He accused YCP Jagan and two other parties of colluding with Modi to conspire against AP state's interests at every level.
Naidu asked as to why Jagan has not been criticising Modi and BJP at all despite the fact that the Centre was doing so much injustice to AP without least bothering about the new state's problems.
He said Jagan was neck deep in CBI cases filed against his illegal assets and that YCP leaders would kneel down before anybody who is in power at the Centre to escape punishment under these CBI cases.
Naidu asked why Pawan Kalyan has been keeping silent with regard to Rs. 75,000 crore package that would have to be given to AP by the Centre as per the fact finding committee's findings on the new state's needs.
He further said that KCR, Jagan and all such leaders were acting under the direction of Prime Minister Modi which is not safe for the people eventually.