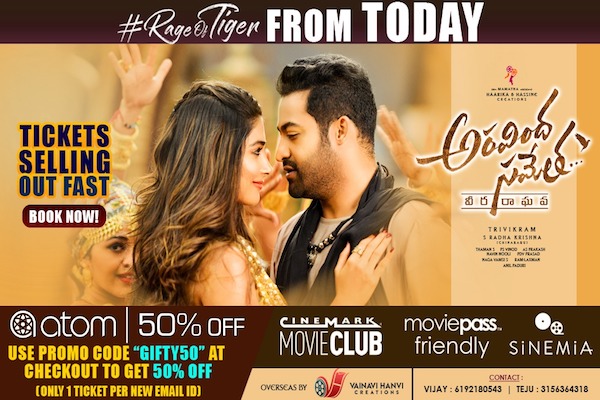 Jr NTR's Aravindha Sametha Veera Raghava is allegedly one of the movies that have gotten the highest response in this year even before the release.
The Aravindha Sametha USA Premiers are going to happen TODAY (October 10th, 2018) from 4.30 pm EST/3.30 pm CST/2.30 pm MST/1.30 pm PST. Hard drives and KDMs reached the theatres yesterday itself, enabling premiers to start right on time.
The film has beaten the records of the pre-release celebrations in this year, being one of the top five budget Telugu Movies, 2018.
It's been a dream of Tarak fans to see him work with Trivikram, and it has finally got fulfilled. This rare combination has managed to hike the expectations and the curiosity of the audience. Given the title, the speculations say that Jr. NTR is going to play the role of 'Veera Raghava', a man who wants to condemn the violence and spread peace.
The trailer speaks the same where you can witness Jr. NTR portray a wide range of emotions in different scenes. In an interview held, Director Trivikram has revealed that, "Aravindha Sametha has War aftermath, Peace and Women empowerment".
The hype that has been surrounded the movie has generated intensity about the movie. After witnessing massive advance bookings for the film, it is only reasonable to consider it as a pre-positioning film. While the film is set to get released on October 11th throughout the world, the USA premiers are going to be held on October 10th, itself.
An interesting thing about Aravindha Sametha is the stellar cast. This Jr. NTR and Pooja Hedge starrer have splendid cast in the picture, just like all the Trvikiram Films. While we are going to have Sunil back to play the comic role, a glimpse at Jagapathi Babu might scare you in the dreams. Naga Babu is known to play the father of Jr. NTR along with Rao Ramesh, Shatru and others.
The music of the film created by SS Thaman has already proved itself with the Jukebox. Out of all the songs, Penviti has touched the audience so hard that some of them are excited to just watch the emotion behind this song.
Counting minutes? Catch Aravindha Sametha Veera Raghava on October 10th today, brought to you by Vainavi Hanvi Creations in theatres like Cinemark, Regal, Marcus, ShowCase, New Vision, Emagine, Movie Tavern, Harkins, Frank, 8K Cinemas, Apple & Others.
Have fun watching the premiers with your friends and family.
CLICK HERE!! for the Schedules in your Nearest Theaters.
Press release by: Indian Clicks, LLC