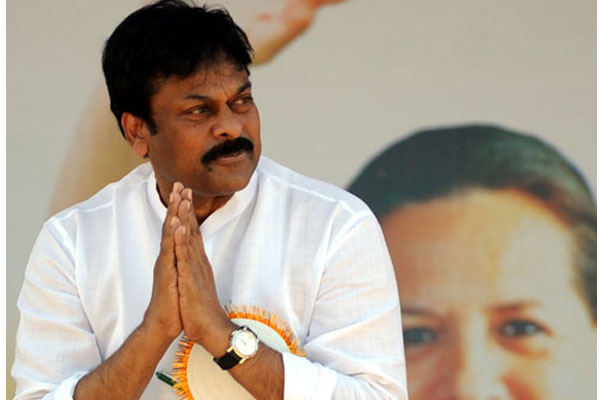 Congress is in its worst phase in Andhra Pradesh. Despite the attempts from the leaders to strengthen the party, it is challenging for PCC to rise and shine by 2019 elections. Even under the able leadership of KVP Ramchandra Rao and Raghuveera Reddy, the chances of party surviving the elections is grim. The only ray of hope to the party is Konidela Chiranjeevi who as such is reluctant. If the buzz is to be believed state congress leaders are contemplating on announcing the Tollywood megastar as the CM candidate for 2019 elections.
In 2014, Chiranjeevi managed to lead the party to zero seats, but he cannot be blamed for it. The reorganisation did not go down well for Congress in both Telangana and Andhra Pradesh. However, in Telangana, Congress managed to become the opposition party, but in AP the party vanished. After elections though Chiranjeevi was working for the party, he slowly drifted away from politics. There can be no perfect time for re-entry into politics than now after prolonged absence. Firstly, the Kapu agitation will work in favour of Chiranjeevi and he will be able to woe both the young voters especially with the SCS issue which his party promised.
Congress leaders in Rajya Sabha were debating on special category status for AP. This issue has now become a sentiment. After all these days, this was the best chance for Chiranjeevi to walk into the upper house and make his voice heard. In fact, this news would have got more viewership and ratings than his current show Meelo Evaru Koteshwarudu. The megastar who ruled the film industry for years, is now on a TV show being a host for other hosts of other show. Most of the viewers believe he can do better than this. Had he been in politics, at least people and media would give him more attention.
Chiranjeevi is man of few words but he whenever he speaks he makes an impact. He was the only decent leader from AP, who protested against his own party in non-violent manner by silently standing in Rajya Sabha against reorganization act. The former tourism minister has a very good chance to become front runner. It is difficult for the reorganization issue to fade away especially with Chandrababu constantly trying to cash on it. But the needs of people have changed. They are now fighting for Vishaka Railway zone, SCS, Aqua food park, Agrigold and many other issues. Even if Congress targets 2019 elections, if not for the ruling party at least they will be able to get seats to sit in the opposition.