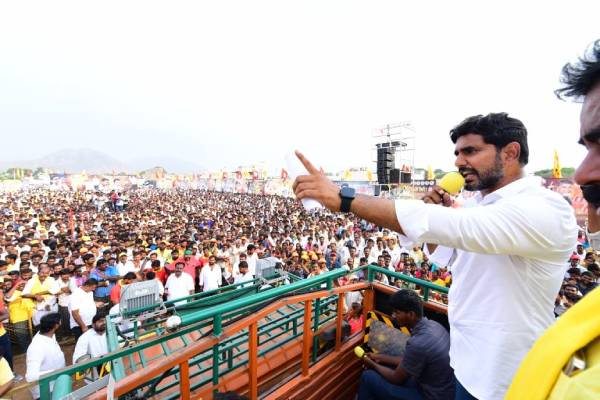 The outcome of the elections held for the Graduates constituencies in the AP Legislative Council clearly indicate that the downfall of Chief Minister, Jagan Mohan Reddy, has begun, and it is the TDP that is going to come back to power, observed TDP general secretary and former minister, Nara Lokesh here on Friday.
Addressing a massive public meeting at Molakalacheruvu of Thamballapalle Assembly segment, Lokesh expressed confidence that the TDP is all set to assume power in the coming polls. Observing that he is fortunate enough to conclude his pada yatra, Yuva Galam, in Chittoor district at a historic place like Thamballapalle which produced fighters who fought for liberation, Lokesh said that he walked for 45 days in the district covering 14 Assembly segments spread over 577 km to have a first-hand information on the problems being faced by the people.
Expressing deep satisfaction over the affection shown by the people of the combined Chittoor district, Lokesh profusely thanked the police and the local TDP leaders for their cooperation extended to him.
The former minister is of the opinion that local MLA, Peddireddy Dwarakanatha Reddy, has deliberately prevented Madanapalle from upgrading as a district only to exhibit his supremacy, Lokesh promised to upgrade Madanapalle into district soon after the TDP is back into power.
Expressing concern that the local youth and the construction workers are migrating to Tamil Nadu Karnataka and other States in search of employment as there are no opportunities in the district, Lokesh promised to set up units in Chittoor district when the TDP is into power again to provide job opportunities to the youth.
"I had doubts as to why Jagan is deputing so many police personnel when I am undertaking pada yatra. But after my completion of the programme in the combined Chittoor district I got it because the Chief Minister does not want the people's voice to come into the open. Let me make it very clear that I will not stop my pada yatra despite heavy police forces being deployed," Lokesh said.