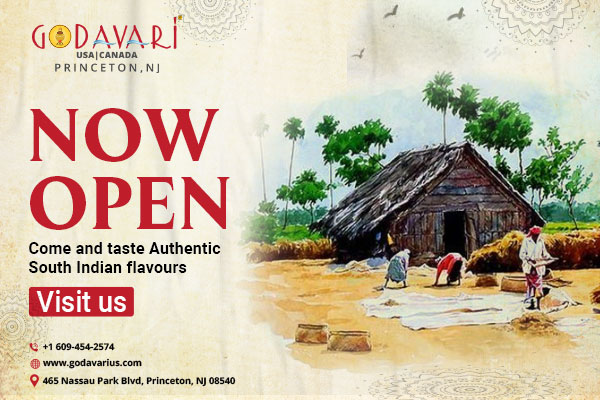 One of the World's most popular South Indian restaurant brands from Boston, MA is now opening their new location in Princeton, NJ this weekend with a great vibe to it.
"Godavari" is all set to mark its presence in this densely populated Desi location with authentic South Indian food along with new additions to their trendy menu. Godavari is very well located in the Nassau Park Blvd which is very accessible to the patrons living around the Princeton, NJ area.
"It wasn't an easy ride with the Township, but we worked hard to get this done," said Srini from Godavari Princeton. "We want to bring in the most authentic dishes like "Chinta Chiguru Pulao", "Deepika Padu"kodi" to NJ that Godavari lately induced in their menu" added Sreedhar & Ritesh.
"We are very picky now about who to give out the brand to from our previous experiences and this year is being great in selecting such a good team" said the founders of Godavari.
"Godavari" is also making waves in the Indian market with their new brands "United Telugu Kitchens (UTK) & "Ishtaa" (Pure Veg) in both the Telugu states along with expanding throughout India and neighbouring countries.
Godavari is now ready to rock & roll with our South Indian food throughout the World.
Here are the details to visit Godavari in Princeton!
Godavari Princeton
465 Nassau Park Blvd
Princeton, NJ 08540
For contact:
Phone: 609-454-2574
Email: princeton@godavarius.com
To join the Godavari Family, you can reach them at franchise@godavarius.com
Visit: www.GodavariUS.com
Thanks again…. Hope you all enjoy our cooking….
Content Produced by: Indian Clicks, LLC