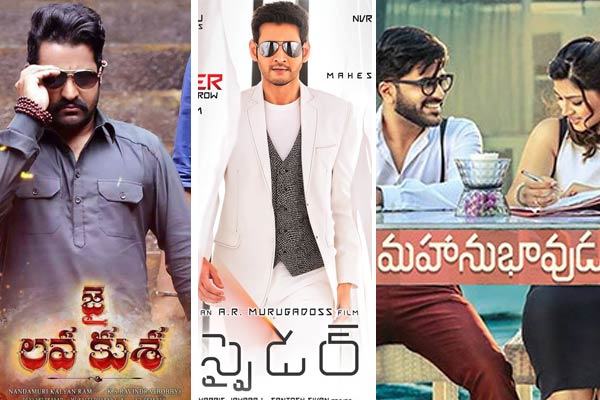 1. SPYder : With a distributor share of 8.55 Cr, SPYder stood on Top last weekend.5 days cumulative total stands at 29.25 Cr approx. The problem with SPYder to be told it didnt capitalize the weekend despite being on Top is that it didn't run on an occupancy of atleast 50 percent of it's capacity. But thanks to the festive holidays else it would haven't been a disaster of epic proportions
2. Mahanubhavudu : After a very good opening of 2.58 Cr the film sustained very well over the next two days that it even collected more than first day on it's third day in almost all the areas. Three days distributor share is over 7.7 cr which is second biggest opening weekend for the hero behind Sathamanam Bhavati which is at 8.22 Cr. Taking gross into account this could be the highest.
3. Jai Lava Kusa : After dropping on weekdays and ending up it's first week with a distributor share of 45.17 Cr, Jai Lava Kusa has picked up in it's second weekend. It has collected a share of 5.7 Cr over the last three days taking up 11 days total to an approx 51.8 Cr. This is second film for the hero to surpass 50cr mark in Telugu States and 12th film overall. The film is sold for 65 cr and there is a lot more to recover in coming days.