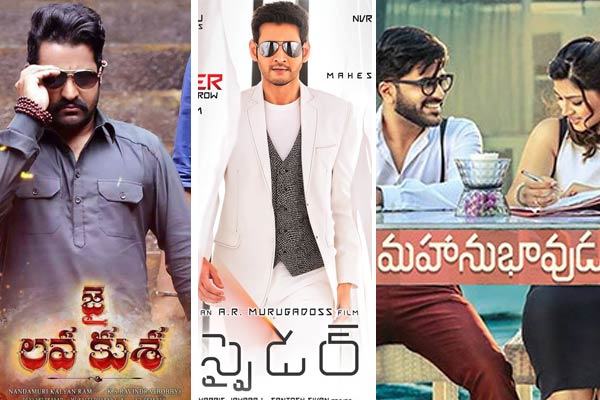 Dussehra releases Jai Lava Kusa, SPYder and Mahanubhavudu, which opened on a strong note at the US box office, failed to capitalise on the just concluded weekend. While Mahanubhavudu managed to garner decent figures in its first weekend, SPYder has thoroughly disappointed the trade circles with its appalling collections after a sensational start with $ 1 M premiers. NTR's Jai Lava Kusa fizzled out in its second weekend.
Mahanubhavudu, which took a decent start with $ 85K from its Thursday premiers, managed to collect $ 113K and $ 200 K on Friday and Saturday. The family entertainer concluded the first weekend with $92K on Sunday taking the overall total to half a million dollar mark. The break even mark for Mahanubhavudu is close to $ 1M.
Mahesh Babu's SPYder is staring at a huge loss as the collections drastically plunged after a solid start. The weekend collections are very disappointing as the film is struggling to touch the $ 1.5 Million mark. After opening its box office account with $ 1 M from premiers, SPYder failed to capitalise in the first weekend. The film collected $95K and $ 120K on Friday and Saturday respectively. On Sunday, the film collected close to $55 K and is at a touching distance from$ 1.5 M. The break even mark is close to $4.5 M.
The decent run of NTR's Jai Lava Kusa is coming to an end. After performing on par with the trade expectations in the first weekend, Jai Lava Kusa fizzled out in the second weekend. However, the film surpassed the $ 1.5 Million mark making NTR the only south Indian hero to have a hat trick of films in the prestigious $1.5M club. The break even mark is in between $1.7 M and $1.8 M.
Sunday 8:15PM CST#Mahanubhavudu $72K [ Nearing 0.5M by EOD]#SPYder $38K#JaiLavaKusa $12K

— Telugu360 (@Telugu360) October 2, 2017
Sat US BO#Mahanubhavudu – $189k. Tot 403k (BE – 1 M)#SPYder $118k. Tot – $1401k (BE – $4.5M)#JaiLavaKusa– $25k Tot $1508k. (BE-$1.7M

— Telugu360 (@Telugu360) October 1, 2017