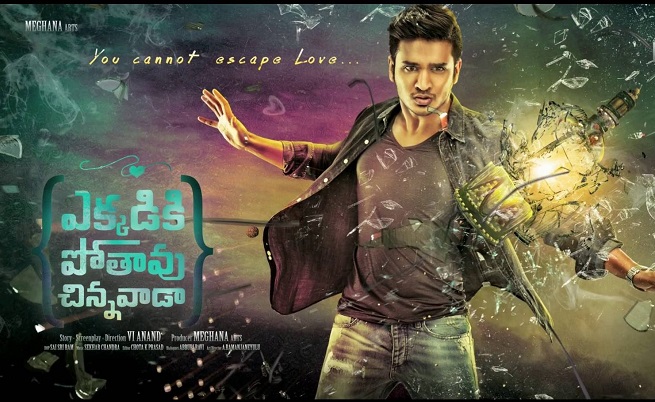 Ekkadiki pothavu chinnavada Review
Telugu360 Rating : 3/5
Young actor Nikhil Siddhardh is back on silver screen after an year. His last movie – Kona Venkat's Shankarabharam, was a disaster and Nikhil pinned huge hopes on his latest film Ekkadaki Pothaavu Chinnavada. The film's trailer raised the expectations and curiosity levels in the audience.
Story:
Arjun (Nikhil) goes to Kerala for his friend 's (Vennela Kishore) psychological treatment. While in Kerala , Arjun comes across Amala (Hebah Patel) ,who is also a telugu girl, and falls in love with her. Later after returning to Hyderabad, Arjun realizes that the lady Amala is not a human but a spirit who has taken over Nitya's body. Meanwhile, Amala's spirit leaves Nitya's body and enters into another lady Parvathi (Nandita Swetha) 's. The story looks illogical on paper, but director Anand narrated it convincingly. Rest of the story is how Amala's sprit tries to get close with her Lover Arjun who is still alive.
Lead cast:
Nikhil Siddhardh gets a tailor made role and he suits the bill perfectly. Hebah patel looked odd in some frames, but she sizzled in a western dance bit in second half. Nandita Sweta is right find for the character. Avika Gor appeared in a short role in flashback which is key to the story.
Vennela Kishore got a significant role. All YouTube comedy stars acted in this movie and generated decent comedy.Billy Muralee who acted as the Tantrik is scary and good
Analysis:
Ekkadiki Pothavu Chinnavada story is fun filled and thrill to watch on screen. This movie is in line with the trending genre – horror comedy. Director Vi Anand has ensured that the movie has right dose of thrill factor and situational comedy. The movie opens slowly, but picks up. The interval bang sets perfect pitch for second half. Second half is well paced and gripping and the pace slows down towards the climax. Had the director handled the climax better, the movie would have done wonders.
Songs are shorter than normal and nothing much to rave about. 'Neetho unte chaalu' , ' Chirunama tana chirunama marachipoyenE ' songs stands out while other two songs are just ok. .Background score is another asset for this movie and music director Sharat Chandra did a wonderful job. .
Sai Srirram's cinematography, with good lighting themes, elevated the mood of the film
Positives:
Thrilling narration
Decent comedy
Casting and performances – Nandita sweta is a perfect fit for the role
Ghost / Spirits story has been told convincingly with some debate around it
Negatives:
Dragged climax (USA prints have 3 minutes additional footage, compared to India)
Initial parts of the movie should have been better.
Few audiences may complain about too many twists
Verdict :
'Ekkadiki pothavu Chinnavada' is an easy one time watch. Given the genre and youth theme, this medium budgeted movie should perform decently at box-office to breakeven in normal season. However, the cash crunch going on in India may impact a bit. EPC is going to be the 'guinea pig' for Telugu industry to estimate the impact of Demonetization. In overseas, the film should make some noise as there are no major release in coming weeks.
Telugu360 Rating : 3/5