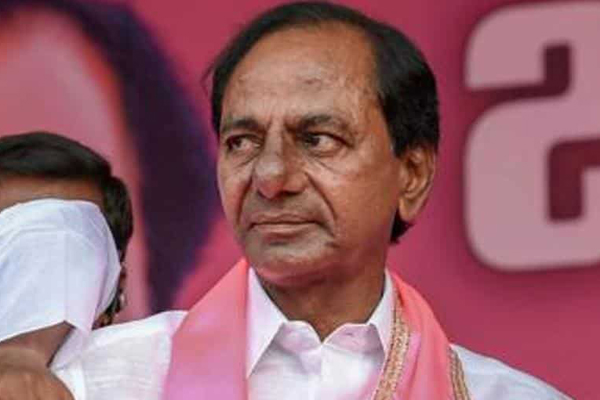 Election Commission of India (ECI) has cautioned Telangana chief minister K Chandrashekhar Rao not to dampen the sentiments of people for political interests. Further, the ECI has asked KCR to be more careful and abide by the Model Code of Conduct during the election campaign and addressing at public meetings.
TRS supremo KCR at a public meeting in Karimnagar on March 17, came down heavily on Congress and BJP and criticised them in his usual style. In his speech, KCR had criticised Congress and BJP as they project themselves as representatives of Hinduism.
During the Karimnagar public meeting, KCR remarked that "Aren't we Hindus? Aren't we visiting temples, Aren't we offering prayers and tonsuring heads? In fact, we're more devoted Hindus. No one in the country performed as many Havans as I did. BJP and Congress are portraying themselves as sole contractors of Hinduism. Hinduism of BJP and Congress is for votes and electioneering. Whereas, we're real spiritual Hindus. Once, India gets rid of Congress and BJP, then only our nation can stand tall in the world."
Responding to this speech of KCR, Vishwa Hindu Parishad (VHP) expressed concerns over the dampening the spirit of Hinduism.
"KCR has terms 'Hindugallu and Bondugallu.' This remark has hammered down the sentiments of Hindus. KCR's speech was aimed at bringing divisions within the Hindus. KCR has violated Model Code of Conduct," said M Rama Raju, VHP President, in his complaint to the ECI.
The ECI has got translated the VHP complaint into English and reviewed it. Later, the ECI has come to a conclusion that KCR's speech was a violation of Election Code and opined that it was against the sentiments of caste, religious and social factors. Subsequently, the ECI on April 10 issued a notice to KCR asking him to respond within two days.
KCR in his reply to the ECI has condemned the false and baseless reports by VHP. KCR further said that his speech was cut and paste accordingly to frame him in the case.
After going through the KCR's reply, the ECI once again heard his full speech and found that he violated the Election Code under para-1 (1) (3).
"We advise KCR to be more careful in future and abide by the Election Code during public meetings. Any political party or candidate should not speak against the harmony of religion, caste, language, tradition, etc," said ECI.