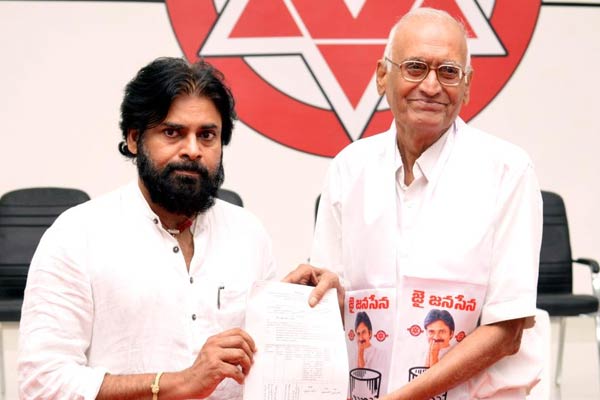 SPY Reddy, Nandyal sitting MP today joined Janasena party. He will be given Nandyala MP ticket and tomorrow he may be filing nomination to Nandyal MP seat.
SPY Reddy is an entrepreneur and heads Nandi Group of Industries. He graduated with a Bachelor's degree in Mechanical Engineering from NIT Warangal. He worked in Bhabha Atomic Research Centre (BARC), India's premium nuclear facility. He quit his job as Scientific Officer and turned entrepreneur. His Nandyal Nandi pipes is quite successful brand. During 1990s, much before Anna canteens and Amma canteens, he started providing quality food at cheaper cost to poor people in Kurnool district. His mobile canteens used to provide one Jowar roti for one rupee and one Dal packet for one rupee and most of the construction labors used to flock at those mobile canteens.
He joined politics in 1991 itself but success eluded him until 2004. In 2004 he contested as an MP candidate from Nandyal and won with 1 lakh majority. Later in 2009 he won again from the same constituency. In 2014, he won for the third time as MP from Nandyal by defeating NMD Farooq with 1.08 lakh majority. In 2004, 2009, he won from INC party. In 2014 he won from YSRCP but later defected into TDP. However, rather surprisingly, TDP supremo Chandrababu Naidu denied him ticket While most of the people predicted he may contest as independent, he joined Janasena in the last minute and got ticket.
Even though many senior leaders from other parties approached Janasena, Pawan refused to join them into the party but he gave green signal to SPY Reddy given his credentials in charity work. Moreover his efforts in KC canal and Velugodu projects helped farmers of this area and that is one of the reasons for him to win thrice from the same constituency.
Election competition:
YSRCP is fielding P Brahmananda Reddy, a businessman, as its candidate for Nandyal MP constituency while TDP fielding Sivananda Reddy, former police officer. Sivananda Reddy voluntarily resigned to his post of Superintendent of Police to join politics and he has been TDP party in-charge for Nandikotkur. His family is has political connections since beginning. His father earlier contested as Nandikotkur MLA but lost. He is relative of another politician Gowru charitha reddy. YSRCP has given ticket to Pocha Brahmananda Reddy, Nandyal based businessman. Pocha Brahmananda Reddy has association with YS family since 2005. In 2005, then CM, YS Rajasekhara Reddy had appointed him a University Board member and he continued to serve in that position for 6 years.
All the three candidates belong to same community and SPY Reddy and Brahmananda Reddy came from entrepreneur background. We will have to wait and see who will be winning from here in the triangular fight. SPY Reddy's joining has definitely improved the prospects of Janasena here.
Telugu360 is always open for the best and bright journalists. If you are interested in full-time or freelance, email us at
Krishna@telugu360.com