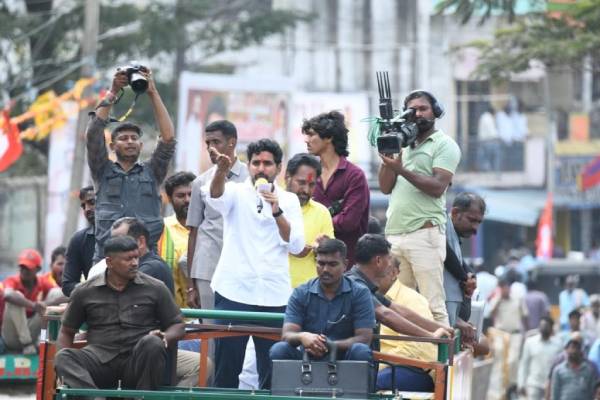 The TDP, while in power, never harassed any section of people and equal justice for all is the policy of the party, said its general secretary, Nara Lokesh, on Thursday.
During his seventh day of his pada yatra 'Yuva Galam', Lokesh met leaders of the Arya Vysya community at Emmaus Hospital camp site where he said that the TDP during its rule never harassed the community but Jagan Mohan Reddy after becoming the Chief Minister of the State the people of the Arya Vysya community are suffering a lot.
"The situation is so bad that many persons of the community are resorting to suicides as they are unable to bear the harassment by the local ruling party leaders," Lokesh said with serious concern.
They are unable to continue their business interests and are unable to pay the 'J' tax being imposed on the community people, Mr Lokesh said, adding that the TDP while in power has given maximum priority for the community leaders, including giving room in the Cabinet and in the Rajya Sabha.
Even an Arya Vysya Corporation was formed for the welfare of the community and Rs 30 cr funds were allocated for the corporation, he pointed out.
Lokesh asked as to why the temple of Goddess Kanyaka Parameswari was damaged and why there is no representation from the Arya Vysya community in the Cabinet now. "A lone representative of the community in the Cabinet was removed from the post and no funds for the corporation," he stated.
Lokesh assured the community leaders that the Arya Vysya Corporation will be revived soon after the TDP assumes charge again. Also, the community people will be encouraged to grow both economically and politically, he said.
In the presence of Lokesh several local leaders from Palamaner joined the TDP. Majority of them are youth and leaders from the Muslim community belonging to MC Palem and Rangapuram villages in the segment.
Former sarpanch of Morum, P Viswanatha Reddy, is among several local leaders who joined the TDP. Lokesh called upon them to work hard for strengthening the party base in the Palamaner Assembly segment.
Later, the pada yatra entered Palamaner town where thousands of party activists and the general public gave a rousing reception to Lokesh. They showered flowers on him and Lokesh sought the blessings of the elders in the town.