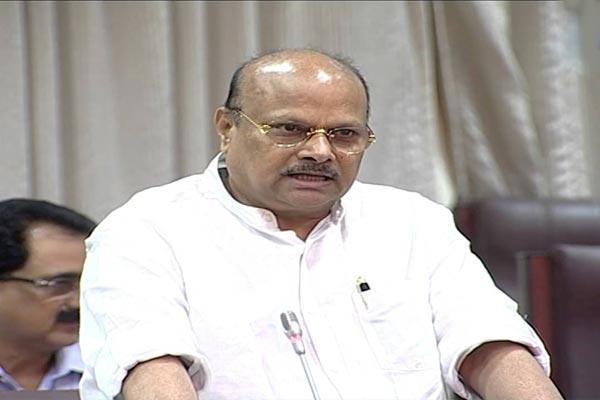 Former Finance minister and TDP politburo member, Yanamala Ramakerishnudu, on Thursday pointed out that State Minister for Finance, Buggana Rajendranath, praised the union budgetary proposals submitted to Parliament on Wednesday, his party MP, Midhun Reddy, said that it is totally disappointing.
Yanamala expressed surprise as to why the 32 YSRCP MPs are silent on Special Category Status for the State and the negligence on Polavaram project. He is of the opinion that Jagan Mohan Reddy turned into a comedy Chief minister by making false claims that the State stood on top in GSDP by achieving 11.43 per cent growth.
Asking Jagan whether he knows what GSDP is, the former Finance minister said that the Chief Minister is moving in a totally different direction than the whole country. Why the average revenue has come down in the past four years, he said and stated that the Comptroller and Auditor General (CAG) clearly exposed the Government's failures.
Yanamala asked as to why the debt burden on the State has gone up to Rs 10 lakh cr in the past four years and why the State has fallen to 13th position in the country in foreign investments. Stating that the State achieved double digit growth during the TDP regime, he said that the State's position has fallen to 13th and 19th after the YSRCP came to power.
Why an additional Rs 1.22 lakh cr was spent additionally in the past four years and what happened to the Rs 2 lakh cr off-budget borrowings, he asked. Whether any properties are created in the State with these funds, he questioned and felt that not even a single ongoing project was completed and even a single road was constructed.
How can the State compare itself with Kerala, he said and pointed out that Kerala is on top in the country in human resource development. Jagan could not answer the NITI Ayog and the Reserve NBank of India (RBI).