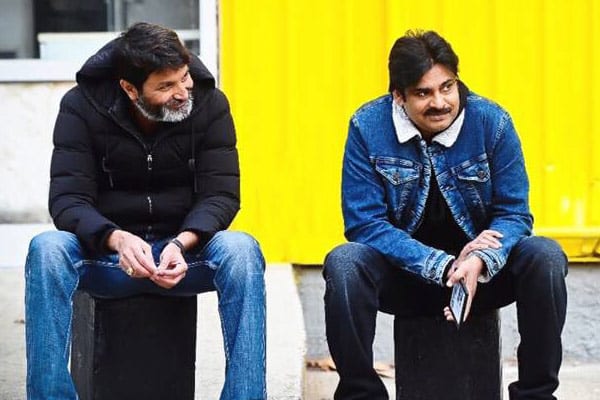 Pawan kalyan's "Agnyaathavasi" is slated to release on 10th January and it has great hype and expectations from industry as well as audience. The teaser released last week showcased Pawan in a stylish manner and it has struck right chords with the audience and fans. However, the teaser reminded the movie "Attarintiki Daredi" , which is a stupendous hit in the combination of Pawan and Trivikram.
Actually it is very common for the heroes to repeat the directors that gave them super hits. But sometimes, directors commit the mistake of delivering more or less similar content next time too. For example, Mahesh Babu repeated Srinu Vaitla fwho gave him biggest blockbuster "Dookudu". They attempted to repeat the magic with the movie Aagadu, but failed as, instead of repeating the magic, they repeated the pattern and form of entertainment. Audience felt the lack of novelty in the subject and movie disappointed the audience. But before release of "Aagadu", the hype that surrounded the movie was similar to the buzz surrounding "Agnyaathavasi" now. When Aagadu's trailer was released first time, that was also instantaneous hit but the majority of audience opined that the trailer resembled and reminded heavily their previous hit Dookudu.
PK-Trivikram's combination also had an industry hit in the form of Attarintiki Daredi movie. Agnathavasi movie is coming after that industry hit movie. So obviously there is lot of hype. But "Agnyaathavasi" teaser reminding Attarintiki Daredi movie seems to be a danger signal because if the movie has too many similarities and follows the same pattern of entertainment of "Attarintiki Daredi", definitely audience will feel the lack of the novelty and feel monotony.If that happens really, that would be definitely the number 1 villain for the movie prospects.
On the other hand, Pawan is currently riding high and his craze is at peaks now despite the flops in last 2 years. So his fans believe, if the movie has reasonably good content, PK's image will pull it to the next level. We have to wait and see what kind of movie Trivikram going to deliver.
Anyway, tomorrow trailer of the movie is expected to be out. Audience will get more clarity once the trailer is out!!!