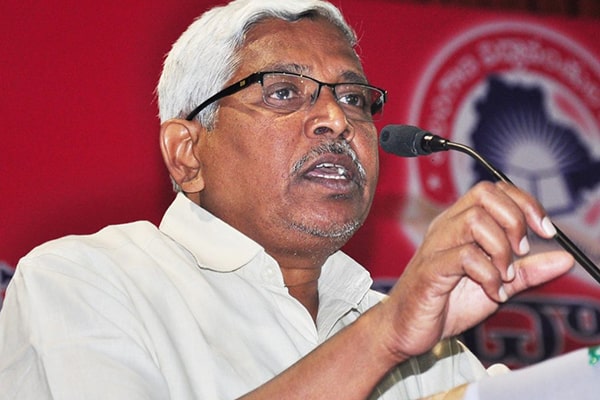 The chairman of Telangana Joint Action Committee (JAC) and chief of Telangana Jana Samithi (TJS) party Professor Kodandaram may get a new portfolio 'CMP Implementations' if the Mahakutami/Prajakutami forms government by winning the poll-fight with largest seats.
As per the preliminary agreements, Mr. Kodanda has to get Deputy Chief Minister post but, due to the community-based equations, sources said that he was agreed to take any other portfolio.
The sources also said that the decision was proposed by the AICC chief Mr. Rahul Gandhi and Mr. Kodanda said okay to it. "The Congress party and its alliance parties in Prajakutami have been preparing its manifesto as well as a Common Minimum Programme (CMP) for the development of Telangana state. Mr. Rahul expressed his opinion that Mr. Kodandaram is suitable person to take care of the new portfolio as he interested in concentrating more on CMP during talks on seats," they added.
The Congress Chief also decided to give powers to the implementation committee of CMP with making it as statutory body and Mr. Kodandaram is behind the decision. "In initial stage, Rahul thought to announce Kodandaram as the CMP body's chairman as well as Dy. CM. But, while sorting out community-based priority in portfolios, CM will be from Reddy community and the Dy. CM will also go for Reddy community if Kodandaram chooses the post. It may send negative message among other communities so that, Mr. Kodanda has backed from the post of Dy. CM. Following this latest development, Rahul directed state leaders on the proposals of new portfolio on CMP implementation," the sources added.
The Dy. CM post will be third sacrifice to Kodandaram after the formation of Mahakutami which changed its name as Prajakutami later. Kodanda expressed his interest in contesting from Janagoan but, due to the pressure from ex-Minister Mr. Ponnala Laxmaiah, it was neede him to sacrifice the ticket. Later, the congress announced Kodanda as Prajakutami's candidate from Miryalaguda. But, due to few other equations from ex-Minister and senior congress leader Jana Reddy, Mr. Kodanda stepped back.