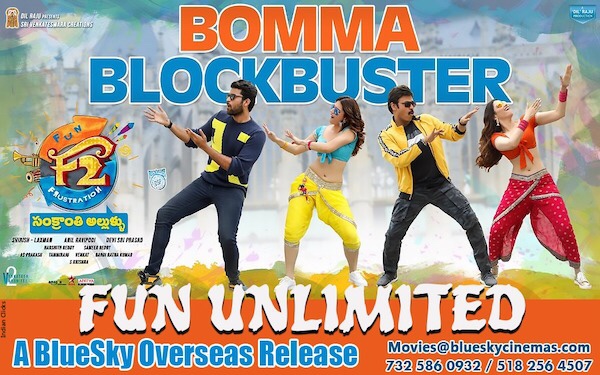 Sankranti is Festival time. Festival is Fun time with families. This Sankranthi has become a real festival for all Telugu movie lovers all over the world including USA with F2.
Yes, F2 is Rocking in USA all over. With very limited shows it did $650k just in two days with highest per screen average including Hollywood movies and heading towards million dollars by Monday or early Tuesday.
We are sorry for that in several location tickets were sold out consciously for both Friday and Saturday and people has to left with disappointment. We are adding some additional shows today Sunday in some locations and will continue for rest of the week and next week
It's once again proved that overseas audience encourage entertainment-based movies.
About 25 new locations will be added next week including missing locations. Non-USA countries Australia, New Zeland, Gulf and Singapore will be opened this week.
F2 generated all over Super Positive talk and thanks to the audience who watched and promoting this movie in big time and media for their support. BlueSky is excited for this overwhelming response in USA.
Watch F2 on big screens with your family and stay away from Piracy.
Wish you all movie lovers once again Happy Sankranti. Only Fun and Keep Frustrations away by watching F2.
It's Rocking all over USA. Anthe Ga…Anthe Ga…Anthe Ga…
Click Here!! for the USA Schedules.
Press release by: Indian Clicks, LLC