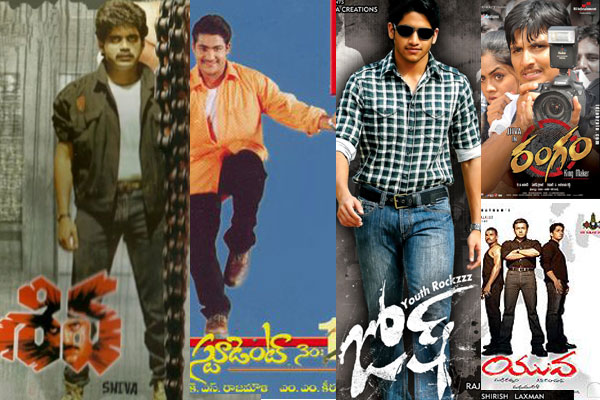 In the wake of the tragic suicide of Rohit Vemula, a University of Hyderabad scholar, student politics and ideological battles have once again dominated headlines. Tollywood has always kept its ears to the ground in talking openly about students and politics in movies. We look at five films that dealt with campus politics in the most realistic manner and gave solutions to the menace. A journey through the decades.
"Rangam" (2011) – "Ko" in Tamil. Directed by cinematographer captures the most-modern interpretation of how students should deal with campus politics rather than being part of a business plan of politicians. At a crucial point in the story, Ajmal, a student with strong ideology, is egged on by his buddy Jeeva to plunge into politics in his own capacity. And they create history.
"Josh" (2009). The last straightforward Telugu film that touched upon the murky world of student politics in which the hero Naga Chaitanya invariably tames a suave politician J.D.Chekravarti to stop using college students as pawns in his political machinations. The movie bombed but got received very well by the public.
"Yuva" (2004). Directed by Mani Ratnam, it was inspired by a Latin-American film that tears into the heart of a student who refuses to make politicians make hay at the cost of students. Instead, the student Suriyaa actually confronts the politician Bharatiraja and ensnares like-minded students to pursue a career in politics.
"Student No.1" (2001). It was the de facto launch movie but the second film of NTR Jr. It again shows the broad message that got strongly echoed in "Josh" – do not get caught up in ideological battles and spoil your career. It is the debut film of SS Rajamouli but became widely quoted as a modern epic.
"Shiva" (1989) by Ram Gopal Varma. The most famous film in our generation which shows campus politics being vitiated by the entry of goons and politicians who want to morph the college campus into an extension counter of their political empires. The protagonist Nagarjuna ultimately tames the bad elements who are abusing the college students and fields a candidate who is upright – it leads to many unintended sequences but the overall message is loud and clear. Students should stay clear of politics.