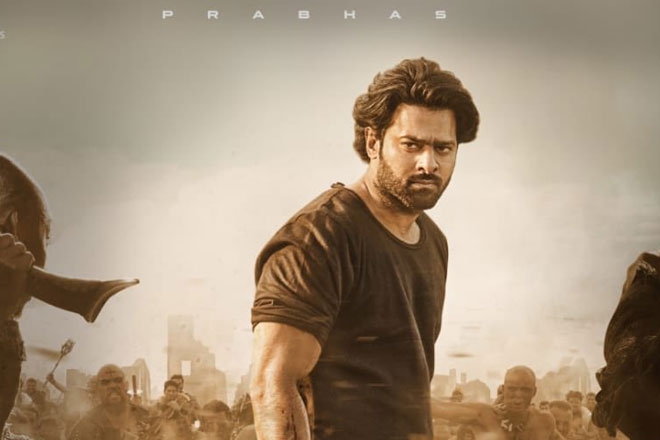 In 2015, with the release of Baahubali: The Beginning followed by the reigning, defending and undisputed champion Baahubali: The Conclusion in 2017, a question arose that, whether Prabhas has reached the place which no one has, for a long time, if not ever, known as the "pan-India star". This weekend Saaho will give the answer to that question. On paper, however, we got the answer with the record-breaking pre-release business that film has yielded, but what's the actual position, that will be known this weekend.
Quoting Uncle Ben, "with great power comes great responsibility", there's a lot that comes with the title "pan-India star", not to forget the ₹270 crore that film needs to recover. Now that needs a big opening, to begin with, and helping the cause here will be the release over 6700 screens, making it the widest release ever across India. Coming to the part where you need to fill these screens, there is a mixed bag right now.
If you are in the Telugu states or Karnataka this weekend, finding tickets to Saaho maybe hefty task. In the Telugu hotpots, the film is second biggest pre-seller ever, only behind the Baahubali: The Conclusion, by the end of Thursday, it might even pass that. Going by the pre-sales and the massive capacity that film is getting, opening record of Baahubali: The Conclusion in APTS might not stand by the end of Friday.
Speaking of North India, the Hindi version of the film had raked in ₹4 crore till morning today in pre-sales, presaging a ₹22-25 crore opening day gross. This might not look like much when compared with Baahubali's ₹55 crore but that's par what 2.0 did last year, which had a big Bollywood star name attached in Akshay Kumar and ticket prices inflated with 3D. In fact, no film from Bollywood has crossed ₹20 crore on a non-holiday this year. Things aren't that rosy for Tamil Nadu and Kerala as pre-sales aren't par expectations, but there is possibility of walk-ins making driving the numbers on Friday.
At this time we are anticipating a ₹85 crore gross opening day in India, which will be the second highest of all time, just behind Baahubali 2 and miles ahead the number three, 2.0 at just under ₹69 crore. There was a possibility of ₹100 crore opening day but that turned into a pipe dream when the release date was postponed from 15th August.