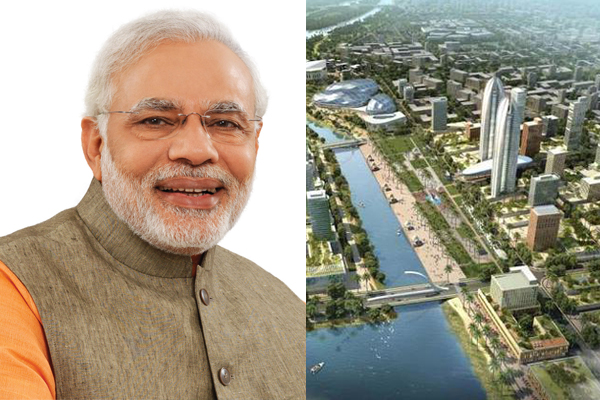 [intro]Retired IAS and former Administrator of Chandigarh MG Devasahayam also sent an email to the Prime Minister Narendra Modi's office to caution the PM that his visit to Amravati would be amounting to an act against the thousands of small and marginal farmers, whose livelihood is being trampled upon by the capital project. Dr Devasahayam headed a fact finding committee set up by National Alliance for People's Movements to study the suitability of the Amaravati area to build a capital city. He says capital city is going to be a Real Estate El dorado of Andrha Pradesh. Following is the edited version of the letter.[/intro]
Dear Mr Misra,
Having led the National Alliance of People's Movement appointed Fact Finding Mission I have gone into the various aspects of the Andhra Pradesh Capital-City project coming up in Amravati and have fair amount of Information on this. Besides, having been associated with the Chandigarh Capital Project as the Deputy Commissioner cum Estate Officer of the City and Union Territory, I have fair knowledge as to how capital-cities are planned, funded and developed.
The AP state capital in Amravati on which work is proceeding at breakneck speed is in total violation of constitutional provisions, AP Reorganisation Act, Land Acquisition Act-2013 and Environmental Protection Act and Rules made thereunder. Though Capital Region Development Authority (CRDA) is the project-proponent in paper, and Government of Andhra Pradesh (GoAP) the project-patron, the project is actually being driven by powerful and moneyed Real Estate operators from Singapore, Hyderabad, AP and Delhi. This project is extremely detrimental to Andhra Pradesh's agricultural systems, India's food security and environmental sustainability.
2
A brief recap. The Andhra Pradesh Reorganization Act, 2014 was enacted by Parliament as per provisions of Article 2, 3 and 4 of the Constitution of India. Under Section 6 of said Act the Central Govt. constituted a Committee headed by late K.C. Sivaramakrishnan, to study various alternatives regarding the New Capital for the successor State of Andhra Pradesh and make appropriate recommendation. ToR for the said Committee inter alia includes following:-
· Least possible dislocation to existing agriculture systems as well as ensure minimum resettlement of people and their habitations.
· Preservation of local ecology and natural features including water bodies.
· Vulnerability assessment from natural disasters like floods, cyclones and earthquakes.
· Assess the scope for minimising the cost of construction and acquisition of land.
Committee did not favor a green-field capital-city for AP at this stage and opined that if the GoAP wants to pursue this option, it has to carry out a careful search for locations where suitably large parcels of government land may be available. Committee after considering all the aspects, found the Vijayavada – Guntur – Tenali – Mangalegiri (VGTM) Region unsuitable for setting up state Capital.
Totally ignoring the Committee Report without assigning any reason, GoAP enacted the Andhra Pradesh Capital Region Development Authority Act, 2014 (CRDA Act) on 30thDec. 2014 and declared VGTM as Capital city and Capital Region Area. This legislation does not have the assent of President of India and therefore untenable being in conflict with Central Acts.
3
To build this capital-city about 35000 acres of land is being coercively 'pooled'. This area comprises of very fertile agricultural lands, situated in the Krishna Delta and is within the flood affected and seismic Zone i.e. highly susceptible/vulnerable to Natural Calamities like, Flood, Earthquake and Cyclone. GoAP has not complied with even the preliminary requirements for a large capital-city project such as concept paper, population projection, Social Impact Assessment, land survey & requirement study, feasibility study, Environmental Impact Assessment, Detailed Project Report, Master Planning etc. All that has been done is some farcical documentation to get a hurriedly 'in-principle' approval from the state environment authorities who are under the administrative control of the project-patron.
It is pertinent here to point out that in Chandigarh which is the most acclaimed capital area in India, only 9000 acres were taken in Phase 1, and 6000 acres in Phase 2, making a total of 15000 acres. These two phases of the city now with a population of 1.2 million has taken more than 60 years for implementation. Chandigarh is low-rise-low-density city with a high percentage of open space in the form of vistas, avenues, gardens, valleys, lakes etc. As against this AP Capital is being planned as high-rise-high-intensity and such a city for a million plus population in a century or so could be built in about 5000 to 6000 acres. Grabbing 35000 acres is nothing but blatant real-estate venture.
GoAP also does not have the funds to carry out even a fraction of the massive capital-city project estimated to cost over Rs. 300,000 crores. Such a huge expenditure cannot be incurred by the State government without adversely affecting budgetary allocations in the State.
4
Land Pooling Scheme (LPS) as claimed by GoAP is a sleight-of-hand. In actual fact in order to rush things and coerce farmers into surrendering the land GoAP on 14 May 2015 issued Notification for coercive acquisition of land major tracts of which are irrigated multi-crop land acquisition of which is specifically prohibited under Section 10 of LARR Act, 2013. Also capital-city project does not come under the definition of 'public purpose' provided in Section 2 of the LARR Act. What is alarming, this coercively acquired/pooled without paying any compensation to the farmers are being handed over to private agencies on a 99-year lease for commercial exploitation [GOMs No 110 dated 2-5-2015 by GoAP Municipal Adinistration & Urban Development Dept]. It was for this purpose that Section 54 of the CRDA Act provides for 'Developer Entities' which are private real estate developers.
AP capital-city project area has two kinds of villages–one with irrigated multi-crop land within 2 km from the river and another with mostly rain fed land. All the villages have a vibrant agricultural economy of Rs.1000 crores per year, with complete linkages from farm to market, and large sections of people deriving livelihoods–including land owners, sharecroppers, tenant farmers and agricultural workers. This is an area of the best soil and climatic conditions, and the richest diversity of more than 120 crops. More than 1 lakh working persons are earning secure livelihood from agriculture in these villages, including the residents and external labour.
The government figures show that 32,153 persons in these villages are mainly dependent on agricultural labour whereas 10,556 persons are mainly dependent on cultivating their land. About 80% of the people involved in agriculture in these villages are landless or marginal farmers who are dependent on agricultural labour and tenancy. There is absolutely no compensation or safeguards being included by the government for these people who will be losing their secure livelihoods.
Master Plan for the capital City is being prepared by a foreign entity in utter secrecy without any consultation process with the stake holders and without taking into consideration the environmental, ecological, social, economic and other ground realities. Prime Minister has been invited to lay the foundation stone on 22 October 2015for a massive capital-city project for which even the basic documentation for land title is not really available with CRDA, the project-proponent. And as per media reports National Green Tribunal on Saturday directed CRDA not to take up any construction-related activity for the new capital-city until the necessary environmental clearances are acquired. NGT also has reportedly restrained the project-proponent from taking up any work, including levelling of the grounds.
Under the circumstances it would be extremely embarrassing for the PM and Government of India to participate in the 22 October function at 'Amravati' and lay the foundation stone for a non-existent but extremely hyped 'project'. It could also be perceived as an act against thousands of small/marginal farmers and agricultural labour whose livelihood would be sacrificed at the altar of this massive, environment-killing Real Estate El dorado which Andhra Pradesh do not require.
From,
M.G.Devasahayam IAS (Retd),
103, Ceebros Bayview, 4th Seaward Road,
Valmikinagar, Thiruvanmiyur, Chennai – 600041
Email: deva1940@gmail.com ; Mobile: 09940174446