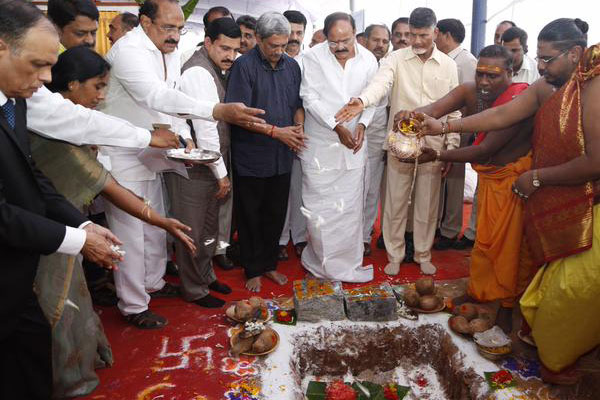 Foundation stone has been laid for the second venture of Bharat Electronics Limited near Palasamudram village in Anatapuramu district. BEL is coming forward to set up Defence Systems Integration Complex at a cost of Rs 500 crore. About 32 years ago in 1982, BEL had set up its first unit in Machilipatnam. The public sector giant is also planning another establishment at Nimmaluru in Krishna district soon.
Chief Minister N. Chandrababu Naidu, union defense minister Manohar Parikkar, union urban development ministers Venkaiah Naidu, civil aviation minister Ashok Gajapathi Raju, commer ce minister Nirmala Sitharaman and science and technology minister Y.S. Chowdary participated in the program. Once commissioned, Palasamudram facility would be the largest BEL establishement in the country. It is located in a sprawling 900 acre complex and will be an extension of BEL's Missile Systems Strategic Business Unit at its Bangalore Complex.
"The Palasamudram unit will cater to the needs of Missile & Weapon Systems manufacturing/integration for the ongoing and upcoming Missile programmes," the defense minister said. The new facility will house state-of-the-art infrastructure such as Assembly Hangars and Hard Stands for Radars and Weapon integration, RF radiation sources for target simulation, Automatic Test Equipment, Clean Rooms for electronic assembly, Non-Explosive & Explosive Integration Buildings, Missile Storage buildings, Environmental Test Chambers, Fire Stations, Solar Power Plant, Estate and Admin buildings.