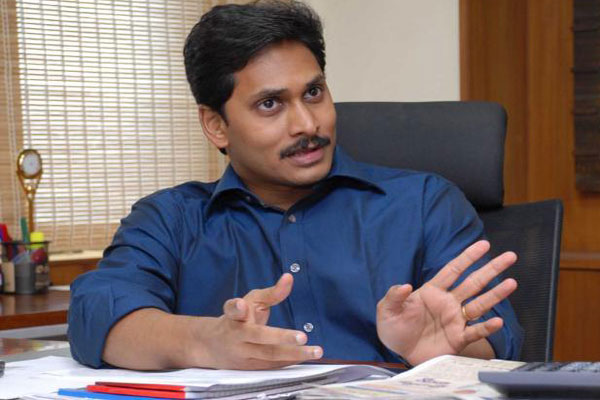 Opposition leader and YSR Congress President YS Jaganmohan Reddy will face Hamletian dilemma- to attend or not to attend the spectacular foundation laying ceremony of new capital Amaravati, once he receives the invitation from capital region development authority (CRDA) in a day or two.
Jagan is expected to face two tough questions with regard to the emerging capital Amaravati. They are:
1. Would he attend the foundation stone laying ceremony of the capital city Amaravati on October 22.
2. Would he relocate himself to new capital region as the government is in the process of shifting the temporary capital from Hyderabad to Vijayawada. There are plans to conduct the next Budget Session of Andhra Pradesh Assembly from the Capital Region. Then he has to live in capital region, which he is opposing tooth and nail.
Jagan has to keep ready fitting answers to these questions as the date of foundation stone laying ceremony is fast approaching. If the opposition leader abstains from October 22 ceremony, in which Prime Minister Narendra Modi will be the chief guest, TDP would unleash campaign against him stating that he is anti-Amaravati and scuttling word-class capital emerge in Andhra Pradesh. If he attends the program, it would be tantamount to endorsing the capital city project, which, in his own words, is coming up destroying the flourishing agriculture economy. In August he staged a dharna with thousands of farmers oppositing the acquisition of fertile land forcibly from small and marginal farmers.
Not only had he supported the agitation of the farmers, who are set to lose fertile lands, but also assured them he would return all the lands to the farmers once his party comes to power in 2019. It clearly states his stand vis-à-vis capital region. Though he did not tell it in so many words, Jagan is opposed to the capital coming up in an area, which is already advanced. He articulated this in a different way stating that he would have raised no objection if the capital construction had been taken up in any area where government waste lands were available.
His party dubbed the capital project as ' commercial project', 'real estate project' etc. And definitely Jagan is not blind to the resentment being expressed in Rayalaseema and North Coastal Andhra to the way the capital is being developed on the lines of Hyderabad with everything being concentrated in the capital region. It is clear from the very establishment of "capital region development authority (CRDA)that Amaravati is going to become a black hole of Andhra Pradesh sucking everything into it. So, it is difficult for Jagan to endorse the project by attending the foundation stone laying ceremony on Vijayadasami day.
The second question is related to shifting of his base from Lotus Pond, Hyderabad, to Vijayawada. The first salvo has already been fired by TDP emergent leader Lokesh. He asked Jagan to first shift his base to capital region in Andhra Pradesh and then talk. Speaking in a party workers training program in Nellijerla in West Godavari district on Tuesday, Lokesh ridiculed Jagan for demanding special status to Andhra Pradesh by sitting in Lotus Pond of Telangana's Hyderabad.
By all means the opposition leader would abstain from the October 22 Amaravati foundation stone laying ceremony. And he is unlikely to relocate himself to Vijayawada, TDP government's temporary capital, from Hyderabad, which is designated as temporary capital by AP Reorganization Act-2014. What is important is how he would construct his argument without hurting the sentiment of the people, who are supporting the Amaravati capital and at the same time he should not been as the one who betrayed the farmers, whom he sat with on a dharna.