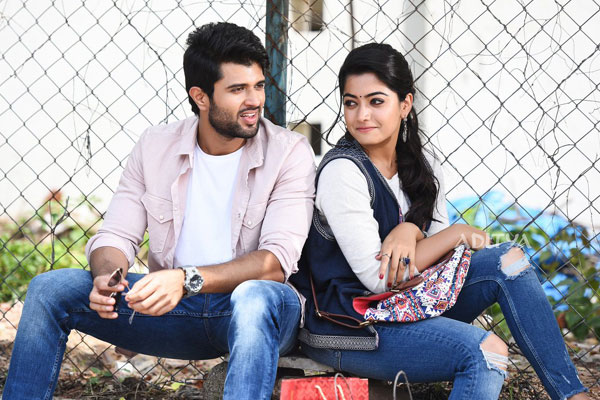 Geetha Govindam audio review
Geetha Govindam is an upcoming romantic entertainer starring Arjun Reddy fame Vijay Devaraonda and Rashmika Mandana in lead roles. Music for the film is composed by Gopi Sundar- who has given some really brilliant melodies earlier.
The album begins with Inkem Inkem composed in the beautiful classical raagas Shankarabharanam but also has shades of Ananda Bhairavi in the middle. Sid Sriram the power packed singer goes out of his comfort zone of Jazz singing and excels in Indian melody. The steady rhythm is effectively balanced with timely chord progression changes. Ananth Sriram's wonderful lyrics and the motif line "talavani talapulu Yedalani Kalupaga" is quite tantalizing to hear. The sitar solo in the second interlude is the biggest higlight of the composition. The phrase "maatalaki karagani maguva" describes a strong willed woman in great poetic manner.
Yenti Yenti is a trance solo by Chinmayi who sings amazingly about searching happiness in life. Sri Mani's lyrics "Angulam nadavakunda payaname chedu pommannana" is something rare to hear in today's Telugu film music. It is indeed a welcome change to hear melodies of this sort which bring out the yesteryear beauty of Telugu language to the current generation of listeners. It would be amazing to know that the first three notes of Mohana raagam were only used until half of the song's progress.
Sid Sriram arrives again with another number Vacchindamma composed in Carnatic raaga Hamsadhwani with modern styling. Usage of ghatam is quite effectively done with blend of electric guitar. Sri Mani uses the phrases matti bomma to describe a goddess and it does the magic. The song beautifully describes Batukamma in folk style which also goes to a new level with the usage of nadaswaram.
Vijay Devarakonda himself sings an already popular number which interestingly begins with the song portion from Swathi Mutyam's Chinnari Ponnari Kittayya. The song has great resemblance with Why This Kolaveri Di in terms of lyrics and also the rhythm section. It would definitely appeal to the youngsters for its catchiness and foot tapping rhythm.
The finale ends on a classy note with an estrangement song Kanureppala Kaalam sung by the composer Gopi Sundar himself with breezy outtakes. Sagar's lyrics are emotionally appealing and the bass guitar does the job quite effectively in the midst of piano touches. The first charanam lines "Kavi Yevaro Ee Kathaki.. Teliyadu gaa appatiki" explains the deep melancholic state of the character.
Verdict:
Geetha Govindam is an undisputable winner once again for Gopi Sundar. He has emerged to be one of the best melodious composers in town!
Our Picks: Inkem Inkem, Yenti Yenti, Vacchindamma