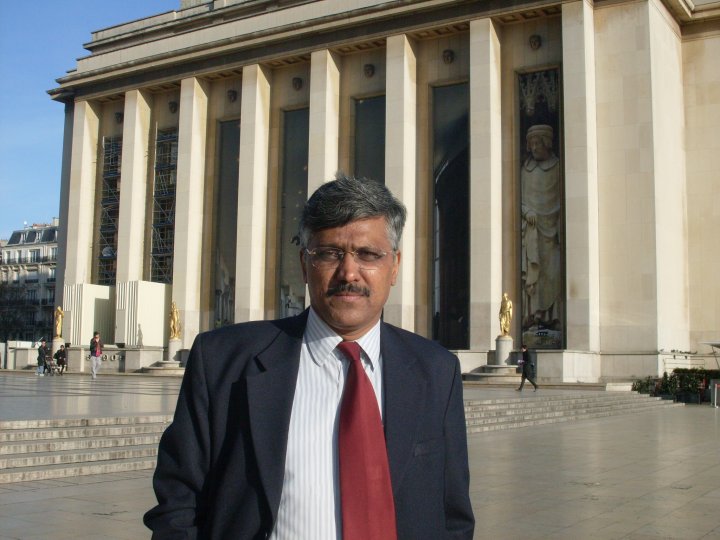 Aramane Giridhar, one of the able administrators and known for integrity and straightforwardness, has been shifted from Municipal administration and Urban development (MA&UD) to sleepy APPSC as secretary.
According to grapevine, Giridhar is said have opposed to the way things are moving in the development of Amaravati, the new  capital emerging on the banks of River Krishna in Guntur district as multi-billion dollar business venture.
As he did not want himself to be  party to the controversial decisions of the government, Giridhar went on leave which finally culminated in his  shifting to APPSC, where, the government thinks,  he could not work at purposes with the political bosses as the government has no plans notify  the jobs in near future.
The talk in the corridors of power is that Giridhar, an alumnus of JNTU Anantapur, fall prey to capital politics, solely controlled by chief minister Chandrababu Naidu and MA&UD minister P Narayana. While chief minister is at the helm of affairs of Capital Region Development Authority (CRDA), Narayana is the field commander. Narayana has got  N Srikanth, a relatively junior officer  appointed as the commissioner for CRDA, who started ignoring Principal Secretary MA& UD,  joining hands with the minister.
Giridhar is the second officer to be shunted out of MA&UD for being too much pesky about abiding by the rules in the matters of Amaravati Construction, the first being D Samasiva Rao, who was shown the door, a bit honorably, as  TTD  executive officer,  when his political boss Narayana found him not compatible to the objectives he was pursuing. Narayana, a education-businessman turned politician, is the most influential minister in the cabinet after the CM.
For Giridhar, a 1998 batch IAS officer, this is the second transfer in the past seven months.
Opposing government decision that harm national interests and benefit corporate companies is not new to Giridhar. When in union ministry of petroleum and natural gas  as joint secretary, Giridhar rattled the UPA government by taking on the powerful Reliance Industries Limited (RIL). At that time he was enjoying the confidence of his  minister S Jaipal Reddy. Both Reddy and Giridhar held Mukesh Ambani-Controlled RIL responsible for the shortfall in the production and failure to fully implement the field development program in the Krishna Godavari Basin's D6 block.  The fall out- first  Jaipal Reddy was replaced by N Veerappa Moily as Petroleum minister. Second,   Moily upon assuming office as petroleum minister immediately stripped Girdhar of  the sensitive responsibility of gas pricing in August 2013. The subject was transferred to somebody who lacked domain knowledge. Hell broke loose. The entire Opposition  screamed  blue murder and alleged that Giridhar was divested of sensitive subject only to placate RIL . Even the secretary concerned also opposed Moily's unilateral decision to reshuffle subjects of joint secretaries.   But after elections, Naidu brought Giridhar back to Andhra Pradesh as chief minister's principal secretary. Little did Naidu think that one day Giridhar would become a thorn in his flesh as well. Naidu and Narayana soon found that Giridhar was at odds with their interests. A charge that he was not entertaining TDP politicians in CMO had been leveled. Later he was shifted out of CMO to MA&UD.
Sources said Giridhas was again planning to go to New Delhi on deputation.
Would he find peace in Modi's New Delhi, where corporate companies are treated as Gods of future India?