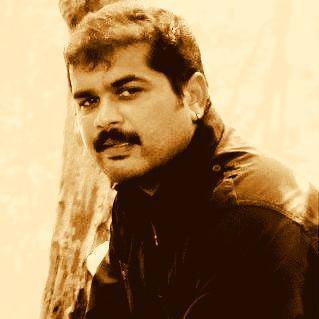 (This article is written by Manu Jagadh exclusively for telugu360.com. )
Manu Jagadh had worked as an art director for 16 films before being offered Baahubali. He considers Sabu Cyril his Guru and says he moved to Hyderabad for the project as he was offered the art director's post. In this blog, he narrates how he completed all the designs and was in a state of shock when he went to see the film with his family. He expresses his anguish and tells Telugu360.com how humiliated he was after spotting his designation as art assistant as the credits rolled. Manu Jagadh in his own words….
"After doing all the work, i.e after one year I developed a problem in my eye. That is because of the fibre work I was doing including sketching and supervising. Initially there was some reaction in my eye and was taken to LV Prasad's Eye Hospital and was advised rest. The fibre glass, the grinding must have affected my eye and have given way to the infection. Sabu Cyril being the production designer said there is a big project coming up for which I would be the art director. My name was everywhere in the net regarding matter to do with Baahubali. He is my guru and worked with him for ten years. I subsequently got treated at Vassan Eye Hospital in Trivandrum and was told that I shouldn't see light for 3 days. After the dressing was removed, the fungus increased, and they advised another surgery which took 15 days for me to return to some kind of normalcy. Sabu Sir called me and said there is work and a lot of it and that I must come soon. I wore glasses and went to Hyderabad. Even the food, may be the oil too didn't suit my system. In between I would visit hospitals for check up. A foreign shoot came up and Sabu said a minimum crew was leaving and if I wanted, I could return home and take rest.
One year I didn't go anywhere and just kept going around hospitals. Once I was in the hospital for 45 days. I gave all the designs to them and put it up in Face Book too. I gave everything including Kalakeya's costumes, Prabhas and Rana's costumes. I am an art director of two unions – in Kerala and Chennai for the past ten years. I have been demoted as an art assistant. Two months before the second part began, Sabu Cyril enquired about my health and reiterated that my name as an art director will appear in the credits. I am now not even an assistant art director. I am an art assistant here, can you believe that? The hierarchy is like this – art director, associate art director, art assistant and then set assistant and I am art assistant now for Baahubali. I messaged him and asked him why this happened and he said there was a mistake. How can there be a mistake in such a big project? There is no bad blood between both me and Sabu Sir and we have worked together for many years.
I went to the film with family and they were shocked. I felt humiliated and messaged him "you made me an art director and now, an art assistant too". He texted an apology, what else can I say? They can remove my name from the film, can they remove my work? I have given considerable designs in part two. Rama, Krishna, Prashanti and everyone else's name is present except mine. They asked me to make designs and I did it. They must have done the product. The production designer decides what colour scheme should go and we, all art directors come next to him. Sabu Cyril is the production designer and told me to help all, be it wrist bands or bindi for the forehead which I designed. You can check it on Facebook. I am deeply hurt. I did 16 films individually as an art director and 17th picture, I have been made an art assistant. If I complain to the union, it takes just one letter and could have stopped the film from release. Lot of people were waiting for release and I didn't want to hurt anyone of them.
If they call me for the second part, I won't go. When I did so much work for a year, in an interview, Sabu said I worked for seven months. I have the statement account. There was no shoot for one month in between and he phoned me and said don't take up any work because I need you. I asked him how I could sustain without work and immediately I was given 70 thousand. Why did they pay me? It means I was needed there, will any producer pay just like that? Sabu sir's name has appeared as a production designer but there is no post for an art director. I heard they have split the credit as Manu and Anil. The work wasn't for two and a half years but all the designs were done as pre production from April to next April and I worked. Now they are saying about two art directors. But if that is the case, where is Anil's name? Just not me, a lot of people who have done miniatures are saying their names have been omitted.
It is okay if you are being paid less but creative people always are happy when they are given a credit. I have decided not to work for the second part. All my friends, my family in Kerala and everywhere knew, I am working on Baahubali. I am thoroughly insulted. It is such a huge picture where art is so important but there is no art director in the credits. Look at Hollywood films; there is a production designer and an art director. Please go through my Facebook. Good, I kept a few sketches and got them home. Or otherwise, they would have asked for proof. I never complained about Rama, Rajamouli or Sabu Cyril. I just put in FB that God cheated me. There are so many people who are unable to react. I thought at least I need to speak my mind…Manu Jagadh
(This blog is written by Manu Jagadh exclusively for telugu360.com. )