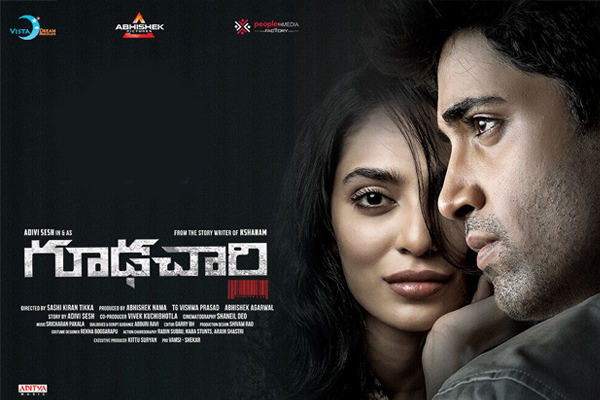 Goodachari Overseas Profit Loss Statement
Sashi Kiran Tikka's directional film Goodachari starring Adivi Sesh, Sobhita Dhulipala, Madhu Shalini in lead roles was released on August 3rd 2018. Produced by Abhishesk Pictures, Goodachari has collected a gross of $771,896 to become the highest grosser and first half million dollar for the hero.
Coming to Profit loss details, the film has collected a distributor share of 374,867 in USA which comes down to $300,867 ie, 2.06 Cr INR after deducting expenses like VPF & Publicity. From Non-USA markets it has fetched another 0.20 Cr to make it a total distributor share of 2.26 Crores in Overseas. The film was released on own by producers fetching them a very good profit. It can be termed as a Super Hit which is the first for the hero.
Click here for Complete Box Office Reports
| Theatre Chain | Gross | Distributor Share |
| --- | --- | --- |
| AMC/Regal | $229,857 | $87,346 |
| Cinemark | $250,241 | $125,120 |
| Marcus/New Vision Theatres | $80,892 | $40,446 |
| 8k Cinemas | $45,882 | $22,941 |
| Others | $165,024 | $99,014 |
| Total | $771,896 | $374,867 |
| VPF & Publicity | | $74,000 (118 Locations) |
| USA Share (Excluding VPF) | | $300,867 (2.06 Crores INR) |
| Other Countries Revenue | | 0.20 Crores |
| Overseas Rights | | Own Release |
| Profit/Loss in INR | | NA |
Verdict :SUPER HIT